Sydney Mozart Society
Affiliated with the Mozarteum, Salzburg
Sydney Mozart Society brings you Mozart and much more from the 'Golden Age' of Chamber music.


Australia Piano Quartet
Friday, 7 April 2017 at 8pm
Daniel de Borah (piano), Andrew Haveron (guest violin), Thomas Rann ('cello), James Wannan (viola)
"…Rarely have I been so impressed by a new ensemble. A combination of formidable pedigree of training, flawless technique, impressive musical intelligence, profound sensitivity and performance élan leads me to draw the analogy of there being evidence here of the ingredients of a true vintage wine which can only get better with age."  David Barmby, Arts Hub, December 2015
Tickets for this concert can be purchased in advance:
In person from The Concourse Box Office, Chatswood or from Ticketek agencies.
By phoning the Ticketek Theatre & Arts Line 1300 795 012.
Online at the Ticketek website
Programme
Mozart            Piano quartet in E-flat, K 452 (after quintet for piano and winds)
Mozart            Piano quartet no 1 in G minor, K 478
INTERVAL
Schumann    Piano quartet in E-flat, op 47
About the Artists
The Australia Piano Quartet has been Ensemble in Residence at the University of Technology Sydney since 2012. Their busy schedule includes a series presented by the Sydney Opera House and Melbourne Recital Centre, and performances in Europe and Asia, including at the prestigious Wigmore Hall. In addition to standard piano quartet repertoire, they have commissioned over 20 new piano quartets, and have been broadcast on Foxtel Arts (2015 Helpmann Awards), ABC Classic FM and BBC Radio 3. In 2017, the ensemble will release their first disc, Mozart's complete works for piano quartet.
In this concert, guest violinist Andrew Haveron will perform in place of the quartet's regular violinist Rebecca Chan.
Read more about the performers.   

Programme Notes
MOZART       Piano Quartet in E-flat, K 452 (after quintet for piano and winds)
Largo-Allegro moderato / Larghetto / Rondo: Allegretto
At the time of a tremendous upsurge in Mozart's musical activity in Vienna in early 1784, the composer organised subscription concerts for Viennese society.    Of his concert at the Burgtheater on 1 April Mozart wrote to his father: "Also my academy concert in the theatre went very well – I have written two grand concertos [K.450,451], plus a quintet [K.452] which has been exceptionally well received; - I myself consider it the best thing I have ever written in my life". 
The work was not published for several years possibly due to the difficulties in classifying such an original work.  Its first publication was in the form of a quartet for piano and strings - the version the Australia Piano Quartet performs tonight. It contained a "bogus" ending which is thought to have been an attempt to complete the work from a manuscript with a lost last page. The autograph manuscript when eventually published contained Mozart's original and longer ending.
K 452 is in the three movements of a concerto. The first movement commences with a strong, slow introduction allowing the piano and strings to state their themes which are passed from instrument to instrument.
The second section builds to a  tutti announcing on the piano the inspired allegro moderato theme of restless inventiveness working its way through the remainder of the movement.
The larghetto is a fine example of the soft, gentle second movements common in Mozart's works. The rondo allegretto finale contains rich themes concluding with a long cadenza for all the instruments. It is a typical finale used by Mozart in his piano concertos written over this period.
                                                                                                                           R. C.
MOZART       Quartet in G minor for violin, viola, 'cello and piano, K 478  
Allegro / Larghetto / Allegretto
At the time when Mozart wrote his two piano quartets in Vienna in 1785 and 1786, the piano quartet was a relatively unknown genre of music.  It seems that his first piano quartet in G minor, K 478, was to have been the first of three, to be published by Mozart's friend and colleague, Franz Anton Hoffmeister.  The story goes that when Hoffmeister complained that the public found the work too difficult and would not buy it, Mozart released him from the contract of publishing the remaining works.  However, Mozart's second piano quartet, this one in E flat which he completed about nine months later, was published not by Hoffmeister, but by Artaria.  
Alfred Einstein writes that Mozart made this second work "technically a little easier, but in its originality, its freshness of invention, and its craftsmanship, it is no less a masterpiece.  It is bright in colour, but iridescent, with hints of darker shades.  [. . .]  When one listens to such a masterpiece, one can only recall Haydn's remark: 'The highest taste and, what is more, the most profound knowledge of composition' ". 
As in the case of the G-minor quartet, the first movement of this work is written in large-scale sonata form.  Roger Covell writes that the "conversational mastery" of Le Nozze di Figaro, which Mozart had completed five weeks earlier, "seems to be present in spirit in the dialogue . . . of the first movement: serene in tone, full of quickly established contrasts, wonderfully polished, yet far from bland and complacent.  
The lyrical slow movement, also in sonata form, is, according to Covell, "music of extraordinarily delicate fancy".  The lively finale is a high-spirited rondo based on a wonderful, pure, simple, main theme.  A concertante quality can be observed in all three movements – in the third movement, for example, a trill on the piano may be seen as equivalent to a cadenza in a full-blown concerto.
                                                                                                                          M. C.
SCHUMANN  Piano Quartet in E-flat major, Op.47
Sostenuto assai – Allegro ma non troppo / Scherzo. Molto vivace – Trio I – Trio II /  Andante Cantabile / Finale. Vivace
Having composed over 130 songs in 1840 and symphonic works in 1841, 1842 was the composer's "chamber music year", when "in the first happiness of reunion with the piano, his creative imagination took on a new lease of life" (Joan Chisell, Robert Schumann). In the Autumn of that year Schumann composed the Quintet Op. 44 and the Quartet Op. 47, both in the key of E-flat. The piano part was intended for his new wife Clara. 
Schumann had been studying the string quartets of Beethoven, Mozart and Haydn, all of whose influences can be heard in the Op. 47 Quartet, but the work also shows Schumann's characteristic and highly original language, especially evident in the Scherzo cast as a set of variations.  He said:  "They (the Quintet and Quartet) seem to please players and listeners alike, particularly Mendelssohn". 
The first movement of the quartet opens with a few slow introductory bars followed by the quick main part in which the principal subject is spun out at length and rounded off with a full close. Upon this there cuts in abruptly the stormy second subject in G minor whose momentum is only stopped by the sudden re-appearance of the sostenuto introduction. This now forms a bridge to the development section and is to appear again at the end of the recapitulation, ushering in the coda. 
The scherzo follows next with a G minor main part in increasing staccato quavers which translates Mendelssohn's elfin-dance scherzos into Schumann's warmer and more subjective language, and with two calmer trios – in G minor and B flat major – in which now and then fragments of the staccato quaver phrases from the main scherzo part hurry across the scene.  
The slow movement in B flat major, a movement of such sensuous beauty, takes third place. It is built in A-B-A form on clear simple lines. In the first part the long-drawn melody is played three times by different instruments in increasingly rich textures. The middle section in G flat major, is more solemn and hymn-like. After this section the main part returns with another three statements of its melody and a coda concludes the movement in deep calm.
The finale, in E flat major, takes up the little   motif of the preceding coda, transforming it into an energetic leap which forms the beginning of the principal subject. The movement is complex in its mood, which changes rapidly in characteristically romantic fashion – always, however, preserving buoyancy and stability.
                                                                                                                 W. D. / R. C.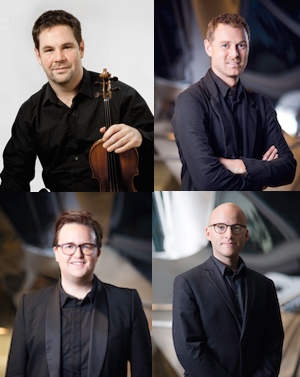 Our venue and how to access it
Our concerts are held in the Concourse Concert Hall, Victoria Avenue Chatswood. With its  superb acoustics, comfortable seating and many amenities, the Concourse Concert Hall is regarded as one of the best chamber music venues in Sydney.
Parking is available in the Concourse car park and in nearby shopping centre car parks. The venue is only a short walk from the Chatswood railway and bus transport interchange.
There are nearby restaurants and cafes, which give concert goers many options for dinner and socialising.
There is a licensed bar in the Concourse foyer where snacks, tea, coffee and drinks can be purchased before the concert from 7PM or during interval.
On concert nights, the Concourse foyer and terrace open at 7PM. Concert hall doors open at 7.30PM. Concerts begin at 8PM.
All tickets to Sydney Mozart Society concerts are general admission, seats are not numbered. The Concert Halll is spacious and good seating is assured.
Non-members are welcome
Single tickets for each of our concerts are very reasonably priced:
Adults, $45.90
Seniors/Pensioners, $42.85
Full-time student, $15.30
Children under 13, free
Tickets can  be purchased in advance:
In person from the Concourse Box Office or from Ticketek agencies.
By phoning the Ticketek Theatre & Arts Line 1300 795 012.
Online through the Concourse website or the Ticketek website.
A Ticketek service delivery fee applies when tickets are booked by phone or online.