Sydney Mozart Society
Affiliated with the Mozarteum, Salzburg
Sydney Mozart Society brings you Mozart and much more from the 'Golden Age' of Chamber music.


Duncan Gifford, Susan Collins and Sue-Ellen Paulsen
Friday, 25 August 2017 at 8pm
Duncan Gifford (piano), Susan Collins (violin), Sue-Ellen Paulsen ('cello)
"What a profound delight this music is—and how terrific to hear it performed so wonderfully by these Australian musicians." Alistair Noble, Loud Mouth Music Trust E-Zine, April 2015 
Programme
Mozart           Piano trio no 6 in G, K 564
Beethoven     Piano trio in D, op 70, no 1, Ghost
INTERVAL
Schubert       Piano trio in E-flat, op 148, D 897, Notturno
Smetana       Piano trio in G minor, op 15
About the Artists
Established in 2005 - and originally called the Kingfisher Trio -  this fine ensemble brings together three distinguished musicians with successful careers on different continents (Duncan lives in Spain, Susan and Sue-Ellen in Australia). The ensemble members meet each year for an exhilarating series of concerts, performed with consummate technique and spontaneity. They released a CD of Schumann Piano Trios in 2012.
Read more about the ensemble members.
Programme Notes
In this concert the ensemble performs music that explores both the radiance and the darkness in life. Mozart's piano trio is captivating and lively; it has an elegant clarity and crisp precision. The rich dramatic textures of Beethoven's Ghost trio create a darker beauty that is mysterious and brooding. Schubert's Notturno glows with tenderness and gentle happiness, while dark and complex emotions lie at the heart of Smetana's passionate trio.
MOZART - Piano trio no 6 in G, K 564
Alegro / Andante / Allegretto
Mozart completed this trio in october 1788, soon after Don Giovanni and the three last great symphonies and just befor his last trip to Dresden, Leipzig and Berlin with Prince Karl Lichnowsky. This phase in Mozart's life was the most depressing. His creative power was at a low ebb and poverty further impaired his already failing health; he had only three more years to live.
This piano trio, his last, might have been conceived originally as a piano sonata. It certainly cannot be compared with the piano trios he composed a little earlier ( K496., K502, K542) and is simply not rich enough to fill the frame of  a piano tri, as Einstein pointed out. However there is no known piano solo edition of it.
The first movement has a sequential beginning, much like a conversation begins with a preliminary remark about the weather. It becomes increasingly brilliant later on, the strings mostly playing against the piano in block harmony.
The slow movement is composed of a theme and six variations, making good use of counterpoint with closely-knit voices, while the last movemen is dominated by a Siciliano theme with a folk-song atmosphere.
G. Z. F.
BEETHOVEN - Piano trio in D, op 70, no 1, Ghost 
Allegro  vivace e con brio / Largo assai ed espressivo / Presto 
The two opus 70 piano trios represent a major shift from the three earlier trios of op 1, and the op 11 trio (composed originally for clarinet, 'cello and piano).   Gone is the quite strong influence of Haydn and Mozart; we are now in Beethoven's so-called "middle" period.  Both trios, written in 1808, were dedicated to the composer's firm friend, the Countess Marie von Erdödy. 
The D major trio of op 70 takes its name from the second movement, in which the slow pace and what Günter Schneider calls the "subterranean mutterings of the piano part provide a Poe-like ghastliness of effect".  The theme expressed by quickly played octaves which opens the first movement almost immediately gives way to a melody introduced by the cello and then taken up by all three instruments.  This melody is based on the material of the opening chords and, indeed, this material permeates the whole movement. A short  presto movement  concludes the work with  energy and an exultant spirit.
This work stands alone among Beethoven's piano trios in having only three movements, rather than the four of all the others.  This represents a greater compactness, perhaps, but certainly not a diminution of scale.
M.C.
SCHUBERT - Piano trio in E-flat, op 148, D 897, Notturno
Adagio
Programme notes will be available nearer to the concert date 
SMETANA - Piano trio in G minor, op 15
Moderato assai / Allegro ma non agito – Alternativo I. Andante – Alternativo II. Maestoso / Finale. Prestoh
Programme notes will be available nearer to the concert date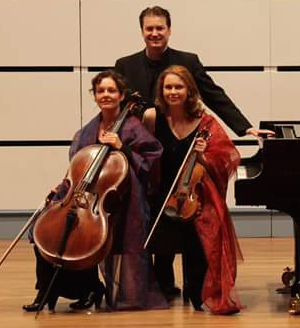 Our venue and how to access it
Our concerts are held in the Concourse Concert Hall, Victoria Avenue Chatswood. With its  superb acoustics, comfortable seating and many amenities, the Concourse Concert Hall is regarded as one of the best chamber music venues in Sydney.
Parking is available in the Concourse car park and in nearby shopping centre car parks. The venue is only a short walk from the Chatswood railway and bus transport interchange.
There are nearby restaurants and cafes, which give concert goers many options for dinner and socialising.
There is a licensed bar in the Concourse foyer where snacks, tea, coffee and drinks can be purchased before the concert from 7PM or during interval.
On concert nights, the Concourse foyer and terrace open at 7PM. Concert hall doors open at 7.30PM. Concerts begin at 8PM.
All tickets to Sydney Mozart Society concerts are general admission, seats are not numbered. The Concert Halll is spacious and good seating is assured.
Non-members are welcome
Single tickets for each of our 2017 season concerts are very reasonably priced:
Adults, $45.90
Seniors/Pensioners, $42.85
Full-time student under 23, $15.30
Children under 13, free
Tickets can  be purchased in advance:
In person from the Concourse Box Office or from Ticketek agencies.
By phoning the Ticketek Theatre & Arts Line 1300 795 012.
Online through the Concourse website or the Ticketek website.
A Ticketek service delivery fee applies when tickets are booked by phone or online.