Sydney Mozart Society
Affiliated with the Mozarteum, Salzburg
Sydney Mozart Society brings you Mozart and much more from the 'Golden Age' of Chamber music.


Australian String Quartet
Friday, 5 October 2018 at 8pm
Dale Barltrop (violin), Francesca Hiew (violin), Stephen King (viola), Blair Harris (guest 'cello)
Photo of ASQ members: Jacqui Way 
This concert is now over. You can read about the performance in ClassikON's review 
Programme
Scarlatti, A                Sonata a quattro no 4 in D minor
Puccini                      Crisantemi
Mozart                       String quartet no 21 in D major, K 575, First Prussian
Schubert                   String quartet no 13 in A minor, op 29, D 804, Rosamunde
About the Artists
Over a thirty-two year period, the Australian String Quartet has established itself as an Australian chamber ensemble of excellence, performing at the highest international level. Resident at the University of Adelaide, the quartet presents a vibrant annual artistic program across Australia and abroad.
The quartet members are musicians of exceptional calibre, with extensive experience in orchestral and solo roles.
In this concert, Blair Harris will replace the quartet's regular 'cellist Sharon Grigoryan.
Programme Notes
Their programme travels across time, with works by composers of different eras expressing the noblest of feelings. It begins with the Baroque sophistication of Scarlatti's graceful sonata. Romantic lushness heightens the exquisite tenderness of Puccini's Crisantemi. Mozart's string quartet has charm and delicacy expressed with Classical elegance. While Schubert's Rosumunde is one of the great Classical string quartets with its poignant lyricism and haunting emotions. 
Scarlatti, A    Sonata à quattro no 4 in D minor
Largo / Grave/ Allegro /Allegro / Minuet
The Italian Baroque composer Alessandro Scarlatti is now remembered primarily as the father of the great keyboard composer Domenico Scarlatti. However in the  late seventeenth century Alessandro Scarlatti was one of the most celebrated opera composers in Europe. He was also well regarded for his chamber works with their inventive  phrasing, harmonies, melodies  and instrumental colour. He composed Sonata à quattro, around 1715.  Although short in length (approximately eight minutes) it is considered to be one of the first known examples of string quartet form. Scarlatti did more than simply score the work for four stringed instruments, he used those instruments in a new way, giving each instrument prominent virtuoso passages, creating expressive exchanges between the instruments and giving each sonate or movement a unique character. 
The sonate are each small gems of intimacy and elegance. The  Largo is an intricate fugue that interweaves animated themes. The Grave, creates rich harmonies and textures with stately dignity. The final three movements are sparkling, with frequent key changes that emphasise their liveliness and variety. The first Allegro in 3/4 is a dialogue in which a buoyant theme is passed between instruments. It is followed by an Allegro in 12/8 with another charming theme that darts to remote keys. The work concludes with a playful Minuet in which the instruments seem to tease and respond to each other.
                                                                                                                         C. B. 
Puccini  Crisantemi
Andante Mesto
Celebrated opera composer Puccini's non-operatic works are few but he composed some five works for string quartets.  Puccini's biography, personality and relationships were notable for their theatricality.  Drama is evident in this single-movement string quartet elegy, Crisantemi (Chrysanthemums; white Chrysanthemums are traditionally associated in Italy with funerals),  The work, an eloquent lament which the 32 year old Puccini said he composed in a single evening, is marked andante mesto ("sad").  It was created in response to the sudden death of a friend of his, Amadeo di Savoia, Duke of Aosta.  Amadeo was a young and ambitious Italian prince who had been selected to assume the throne of the King of Spain after the Glorious Revolution of 1868.  The task bristled with perilous difficulties including threats of assassination and civil war.  Amadeo abdicated in 1873.  He returned to Italy and lived quietly until his death at the age of 44. Where, when and how a friendship was established between Puccini and Amadeo is enigmatic.
The quartet is based on two plaintive melodies in the unusual key of C-sharp minor.  An opening section of fragile restless beauty builds its power from quiet chromatic motives moving in contrary motion and rises to a brief forceful climax in similar motion.  A middle section features a new theme from the first violin, sounding over pulsations from the viola and gains in expressiveness when it is repeated by the first violin and cello two octaves apart. A repeat of the first section is followed by a short coda.  The two melodies of this touching elegy are of rare distinction – as Puccini recognised when he re-used them a couple years later in the last act of his opera Manon Lescout. The second theme forms part of an impassioned aria in Act III, and the first recurs throughout Act IV, when Manon is dying—in the "desert wasteland" of Louisiana.
Puccini's Crisantemi provides a glimpse of a composer who ultimately held the world in thrall.
                                                                                                                              T. R.
Mozart    String quartet in D major, K 575, First Prussian 
Allegretto / Andante / Menuetto: Allegretto / Allegretto
Although the three string quartets, K 575, K 589 and K 590 were said to have been dedicated to the King Friedrich Wilhelm of Prussia, who was a keen amateur 'cellist, the first edition appears not to have borne any dedication at all.  However, the king certainly played them.  In any case, it seems that the royal virtuosity had to be taken into account – in almost every movement, the 'cello has the predominant part.
Mozart wrote the quartets at a time when he was experiencing great difficulties. He was ill, unable to earn much money, troubled by debt and worried about his pregnant wife. As Alfred Einstein puts it, "These are three works that emerged under the most dreadful spiritual oppression, and yet they rise to heights of pure felicity".  This is especially true of the first of the group.
In some ways, the first Prussian quartet, K 575, dated Vienna, June 1789 – around the time Così van' tutte (K 588) was being composed – is a bridge between the old and the new.  The quartet opens with the older-style allegro theme which, as Hanz Rutz writes, is "at once given greater animation by appoggiaturas and rapid quavers, and above all by the energetic triplets of the concluding motif".  The tranquil second movement, with its important development section, recalls the theme of the song, Das Veilchen (The Violet), which Mozart wrote five years earlier.  According to Charles Suttoni, the minuet, which is characterized by string sforzati, "hovers between traditional dance music and the fanciful scherzos of later composers", while in the trio section a lyrical melody is entrusted to the 'cello.  The Finale, a rondo movement in which the main theme is again played by the 'cello, becomes, as Suttoni says, "in effect, an eighteenth-century anticipation of the nineteenth-century cyclic principle of returning themes".
                                                                                                                             M. C.
Schubert   String quartet no 13 in A minor, op 29, D 804, Rosamunde
Allegro ma non troppo / Andante / Menuetto. Allegretto – Trio / Allegro moderato
Schubert grew up playing chamber music with his family and composed several youthful (and fairly skilful) string quartets.  His mature quartets composed for public performance include the "Death and the Maiden" and, the only one performed and published in his lifetime, the "Rosamunde" quartet, both of which date from about the same time.
Schubert had just spent a long period in hospital, being treated for an ailment that was incurable at the time. His physical and mental health was in a fragile condition. He wrote of his "splendid hopes" coming "to naught, to whom the happiness of love and friendship offer nothing but the most acute pain". He died five years later.
The first movement opens with a wistful melody underlain by a restless almost constant undercurrent on the second violin similar to that in Schubert's song Gretchen am Spinnrade ("Gretchen at the Spinning Wheel" who sings "My peace is gone, My heart is heavy, I will find it never and never more"). This is underpinned by a repeated figure of rhythmic urgency in the cello and viola.  Using multiple themes, flexible textures and strong dynamics the music rises and falls, but with each new positive gesture retreating.  The second theme is another song-like subject shared by the two violins. Though the music is now in C major, it is still tinged with melancholy with occasional brief brightness.  Both themes, but especially the first, are put through numerous subtle transformations of melody and harmony, shifting fluidly between the major and minor tonalities, and often involved in contrapuntal manipulations.
The attractive theme of the Andante is based on incidental music Schubert wrote a year earlier for the play "Rosamunde" (from which the quartet popularly derives its name). It plays softly in various forms with the second violin frequently providing a quietly flowing background.  A contrasting animated outburst occurs in the middle section and then the theme returns to close out the movement.  A variant of the Rosamunde theme was later used in Schubert's third of the four impromptus Op. 142 followed by a set of variations.
The cello sets an intense mood in the Minuetto movement with a simple but dramatic three-note figure.  This stems from a motif in Schubert's pensive song "Schöne Welt, wo bist du?" ("Beauteous world, where art thou? Come again, O lovely age of Nature's blossoming"), a setting of a Schiller ode, possibly reflecting Schubert's doomed wishful return to happiness. The movement is demure with the trio being somewhat more outgoing.
The Finale (Allegro moderato) features a good-natured melody suggestive of a moderately-paced folk dance. The movement is enlivened by strong dotted accents and the independence of the four instrumental lines.  Several elements of Hungarian style appear with emphasis on second beats, quasi-improvisatory passages, dotted rhythms, and violinistic flourishes. Tonality flickers from major to minor and back again in a masterful fantasy of textures.
As with other works one is left contemplating what additional gifts could have been bestowed to humankind had Schubert's life not been cut off at such an early stage.
                                                                                                                              T. R.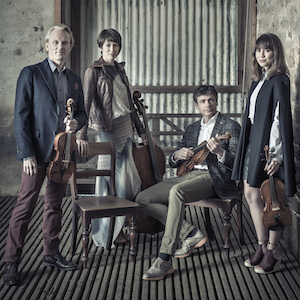 Our venue and how to access it
Our concerts are held in the Concourse Concert Hall, Victoria Avenue Chatswood. With its  superb acoustics, comfortable seating and many amenities, the Concourse Concert Hall is regarded as one of the best chamber music venues in Sydney.
Parking is available in the Concourse car park and in nearby shopping centre car parks. The venue is only a short walk from the Chatswood railway and bus transport interchange.
There are nearby restaurants and cafes, which give concert goers many options for dinner and socialising.
There is a licensed bar in the Concourse foyer where snacks, tea, coffee and drinks can be purchased before the concert from 7PM or during interval.
On concert nights, the Concourse foyer and terrace open at 7PM. Concert hall doors open at 7.30PM. Concerts begin at 8PM.
All tickets to Sydney Mozart Society concerts are general admission, seats are not numbered. The Concert Halll is spacious and good seating is assured.
Non-members are welcome
Single tickets for each of our  2018 season concerts are very reasonably priced:
Adults, $45.90
Seniors/Pensioners, $42.85
Full-time student, $15.30
Children under 13, free
Tickets for our 2018 concerts can  be purchased in advance:
In person from the Concourse Box Office or from Ticketek agencies.
By phoning the Ticketek Theatre & Arts Line 1300 795 012.
Online through the Concourse website or the Ticketek website.
A Ticketek service delivery fee applies when tickets are booked by phone or online.