Sydney Mozart Society
Affiliated with the Mozarteum, Salzburg
Sydney Mozart Society brings you Mozart and much more from the 'Golden Age' of Chamber music.


Australian String Quartet
Friday, 5 October 2018 at 8pm
Dale Barltrop (violin),Francesca Hiew (violin), Stephen King (viola), Sharon Grigoryan ('cello)
Photo credit: Jacqui Way
Tickets for this concert can be purchased in advance
In person from The Concourse Box Office, Chatswood or from Ticketek agencies.
By phoning the Ticketek Theatre & Arts Line 1300 795 012.
Online at Ticketek
Programme
Scarlatti, A                Sonata a quattro no 4 in D minor
Puccini                      Crisantemi
Mozart                       String quartet no 21 in D major, K 575, First Prussian
Schubert                   String quartet no 13 in A minor, op 29, D 804, Rosamunde
About the Artists
Over a thirty-two year period, the Australian String Quartet has established itself as an Australian chamber ensemble of excellence, performing at the highest international level. Resident at the University of Adelaide, the quartet presents a vibrant annual artistic program across Australia and abroad.
The quartet members - Stephen King  (viola), Francesca Hiew (violin), Dale Barltrop (violin) and Sharon Grigoryan ('cello) - are musicians of exceptional calibre, with extensive experience in orchestral and solo roles. 
Programme Notes
Their programme travels across time, with works by composers of different eras expressing the noblest of feelings. It begins with the Baroque sophistication of Scarlatti's graceful sonata. Romantic lushness heightens the exquisite tenderness of Puccini's Crisantemi. Mozart's string quartet has charm and delicacy expressed with Classical elegance. While Schubert's Rosumunde is one of the great Classical string quartets with its poignant lyricism and haunting emotions. 
Mozart    String quartet in D major, K 575, First Prussian 
Allegretto / Andante / Menuetto: Allegretto / Allegretto
Although the three string quartets, K 575, K 589 and K 590 were said to have been dedicated to the King Friedrich Wilhelm of Prussia, who was a keen amateur 'cellist, the first edition appears not to have borne any dedication at all.  However, the king certainly played them.  In any case, it seems that the royal virtuosity had to be taken into account – in almost every movement, the 'cello has the predominant part.
Mozart wrote the quartets at a time when he was experiencing great difficulties. He was ill, unable to earn much money, troubled by debt and worried about his pregnant wife. As Alfred Einstein puts it, "These are three works that emerged under the most dreadful spiritual oppression, and yet they rise to heights of pure felicity".  This is especially true of the first of the group.
In some ways, the first Prussian quartet, K 575, dated Vienna, June 1789 – around the time Così van' tutte (K 588) was being composed – is a bridge between the old and the new.  The quartet opens with the older-style allegro theme which, as Hanz Rutz writes, is "at once given greater animation by appoggiaturas and rapid quavers, and above all by the energetic triplets of the concluding motif".  The tranquil second movement, with its important development section, recalls the theme of the song, Das Veilchen (The Violet), which Mozart wrote five years earlier.  According to Charles Suttoni, the minuet, which is characterized by string sforzati, "hovers between traditional dance music and the fanciful scherzos of later composers", while in the trio section a lyrical melody is entrusted to the 'cello.  The Finale, a rondo movement in which the main theme is again played by the 'cello, becomes, as Suttoni says, "in effect, an eighteenth-century anticipation of the nineteenth-century cyclic principle of returning themes".
                                                                                                                             M. C.
Detailed programme notes  for other works will be available nearer to the concert date.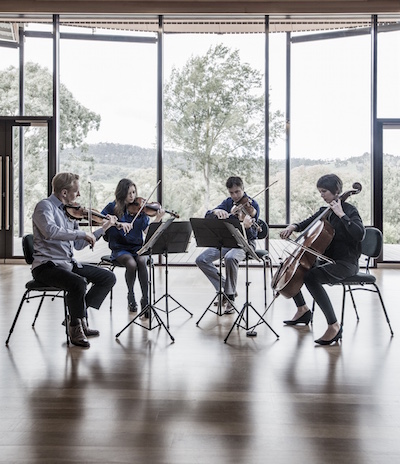 Australian String Quartet at Ngeringa Arts Centre
Photo credit: Jacqui Way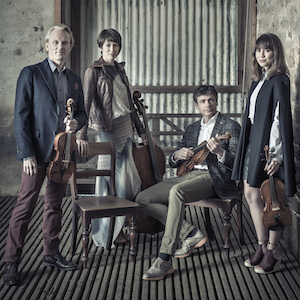 Our venue and how to access it
Our concerts are held in the Concourse Concert Hall, Victoria Avenue Chatswood. With its  superb acoustics, comfortable seating and many amenities, the Concourse Concert Hall is regarded as one of the best chamber music venues in Sydney.
Parking is available in the Concourse car park and in nearby shopping centre car parks. The venue is only a short walk from the Chatswood railway and bus transport interchange.
There are nearby restaurants and cafes, which give concert goers many options for dinner and socialising.
There is a licensed bar in the Concourse foyer where snacks, tea, coffee and drinks can be purchased before the concert from 7PM or during interval.
On concert nights, the Concourse foyer and terrace open at 7PM. Concert hall doors open at 7.30PM. Concerts begin at 8PM.
All tickets to Sydney Mozart Society concerts are general admission, seats are not numbered. The Concert Halll is spacious and good seating is assured.
Non-members are welcome
Single tickets for each of our  season concerts are very reasonably priced:
Adults, $45.90
Seniors/Pensioners, $42.85
Full-time student, $15.30
Children under 13, free
Tickets for our concerts can  be purchased in advance:
In person from the Concourse Box Office or from Ticketek agencies.
By phoning the Ticketek Theatre & Arts Line 1300 795 012.
Online through the Concourse website or the Ticketek website.
A Ticketek service delivery fee applies when tickets are booked by phone or online.