Sydney Mozart Society
Affiliated with the Mozarteum, Salzburg
Sydney Mozart Society brings you Mozart and much more from the 'Golden Age' of Chamber music.


Flinders Quartet
Friday, 2 March 2018 at 8pm
Miki Tsunoda (guest violin), Nicholas Waters (violin), Helen Ireland (viola), Zoe Knighton ('cello)
Photo of Nicholas, Helen and Zoe credit: Agatha Yim
Tickets for this concert can be purchased in advance
In person from The Concourse Box Office, Chatswood or from Ticketek agencies.
By phoning the Ticketek Theatre & Arts Line 1300 795 012.
Online at Ticketek
Programme
Mozart                     String quartet no 18 in A major, K 464
Mendelssohn           Four lieder arranged for string quartet by John Rotar
                                           6 Lieder, op 57 no 5 Venetianisches Gondellied
                                           6 Gesänge, op 34 no 2  Auf Flügeln des Gesanges
                                           12 Gesänge, op 8 no 8 Hexenlied
                                           12 Lieder, op 9 no 1 Frage 
Beethoven              String quartet no 16 in F major, op 135
About the Artists
The Flinders Quartet is one of Australia's most loved chamber music ensembles. For over twenty-two years, both Australian and overseas audiences have enjoyed the quartet's fine ensemble work and the outstanding musicianship of each of its members.
The members of the Flinders Quartet combine extensive experience, intelligence and sensitivity to powerful effect in their music. They are tireless performers, with touring commitments, recordings, educational projects and the commissioning of new works. In this concert they are joined by Miki Tsunoda, a young violinist who combines a successful orchestral career in Europe with a passion for chamber music performance.
Read more about these exceptional musicians
Programme Notes
Sometimes – as in this concert – music can glow with jewel-like beauty. Mozart's quartet, one of a series dedicated to Haydn, sparkles with effortless grace and sunny character. Mendelssohn's lieder are finely polished gems, bright and poetic. While Beethoven's quartet, the last of his late quartets, glows with warmth and tenderness.
Mozart         String quartet no 18 in A major,  K 464
Allegro / Menuetto / Andante / Allegro
The musicologist, HC Robbins Landon, says that "on the whole [Mozart's] six quartets dedicated to Haydn are even profounder and more accomplished masterpieces than the later three dedicated to the King of Prussia". The works published as opera X (opus 10), were written between December 1782 and January 1785. Alfred Einstein writes that the "impression made by the [opus 33] quartets of Haydn was one of the profoundest Mozart experienced in his artistic life. […]  This time he learned as a master from a master; he did not imitate; he yielded nothing of his own personality". Although Robbins Landon has written somewhat critically of this fifth of the so-called 'Haydn' quartet, I think that you will enjoy it. The work was said to be Beethoven's favourite of all Mozart's string quartets.
In the first movement you will hear an abundance of contrapuntal craftsmanship. An unusual feature of the quartet is that the menuet e trio movement is paced second, followed by the slow movement. The andante movement is a theme with six variations in which the theme is retained right through, becoming a climax in the sixth, thus giving a sound, formal shape to the movement as a whole. The contrapuntal style is entirely dominant in the finale, allowing the work to come to a weighty conclusion.
The work is known colloquially as "the Drum" by many Austrian musicians because of the obstinato rhythm in the finale of he variations movement.
                                                                                                                       M. C.
Detailed programme notes for the other works in this concert will be available nearerer to the concert date.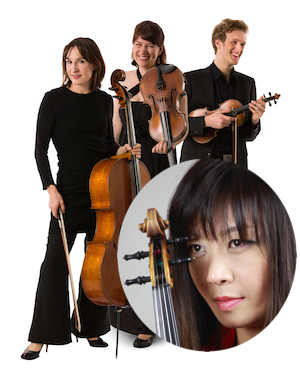 Our venue and how to access it
Our concerts are held in the Concourse Concert Hall, Victoria Avenue Chatswood. With its  superb acoustics, comfortable seating and many amenities, the Concourse Concert Hall is regarded as one of the best chamber music venues in Sydney.
Parking is available in the Concourse car park and in nearby shopping centre car parks. The venue is only a short walk from the Chatswood railway and bus transport interchange.
There are nearby restaurants and cafes, which give concert goers many options for dinner and socialising.
There is a licensed bar in the Concourse foyer where snacks, tea, coffee and drinks can be purchased before the concert from 7PM or during interval.
On concert nights, the Concourse foyer and terrace open at 7PM. Concert hall doors open at 7.30PM. Concerts begin at 8PM.
All tickets to Sydney Mozart Society concerts are general admission, seats are not numbered. The Concert Halll is spacious and good seating is assured.
Non-members are welcome
Single tickets for each of our  season concerts are very reasonably priced:
Adults, $45.90
Seniors/Pensioners, $42.85
Full-time student, $15.30
Children under 13, free
Tickets for our concerts can  be purchased in advance:
In person from the Concourse Box Office or from Ticketek agencies.
By phoning the Ticketek Theatre & Arts Line 1300 795 012.
Online through the Concourse website or the Ticketek website.
A Ticketek service delivery fee applies when tickets are booked by phone or online.