Sydney Mozart Society
Affiliated with the Mozarteum, Salzburg
Sydney Mozart Society brings you Mozart and much more from the 'Golden Age' of Chamber music.


Flinders Quartet
Friday, 2 March 2018 at 8pm
Miki Tsunoda (guest violin), Nicholas Waters (violin), Helen Ireland (viola), Zoe Knighton ('cello)
Photo of Nicholas, Helen and Zoe credit: Agatha Yim
Tickets for this concert can be purchased in advance
In person from The Concourse Box Office, Chatswood or from Ticketek agencies.
By phoning the Ticketek Theatre & Arts Line 1300 795 012.
Online at Ticketek
Programme
Mozart                     String quartet no 18 in A major, K 464
Mendelssohn           Four lieder arranged for string quartet by John Rotar
                                           6 Lieder, op 57 no 5 Venetianisches Gondellied
                                           6 Gesänge, op 34 no 2  Auf Flügeln des Gesanges
                                           12 Gesänge, op 8 no 8 Hexenlied
                                           12 Lieder, op 9 no 1 Frage 
Beethoven              String quartet no 16 in F major, op 135
About the Artists
The Flinders Quartet is one of Australia's most loved chamber music ensembles. For over twenty-two years, both Australian and overseas audiences have enjoyed the quartet's fine ensemble work and the outstanding musicianship of each of its members.
The members of the Flinders Quartet combine extensive experience, intelligence and sensitivity to powerful effect in their music. They are tireless performers, with touring commitments, recordings, educational projects and the commissioning of new works. In this concert they are joined by Miki Tsunoda, a young violinist who combines a successful orchestral career in Europe with a passion for chamber music performance. Read more 
Programme Notes
Sometimes – as in this concert – music can shimmer with jewel-like beauty. Mozart's quartet, one of a series dedicated to Haydn, sparkles with effortless grace and sunny character. Mendelssohn's lieder are finely polished gems, bright and poetic. While Beethoven's quartet, the last of his late quartets, glows with warmth and tenderness.
Mozart         String quartet no 18 in A major,  K 464
Allegro / Menuetto / Andante / Allegro
The musicologist, HC Robbins Landon, says that "on the whole [Mozart's] six quartets dedicated to Haydn are even profounder and more accomplished masterpieces than the later three dedicated to the King of Prussia". The works published as opera X (opus 10), were written between December 1782 and January 1785. Alfred Einstein writes that the "impression made by the [opus 33] quartets of Haydn was one of the profoundest Mozart experienced in his artistic life. […]  This time he learned as a master from a master; he did not imitate; he yielded nothing of his own personality". Although Robbins Landon has written somewhat critically of this fifth of the so-called 'Haydn' quartet, I think that you will enjoy it. The work was said to be Beethoven's favourite of all Mozart's string quartets.
In the first movement you will hear an abundance of contrapuntal craftsmanship. An unusual feature of the quartet is that the menuet e trio movement is paced second, followed by the slow movement. The andante movement is a theme with six variations in which the theme is retained right through, becoming a climax in the sixth, thus giving a sound, formal shape to the movement as a whole. The contrapuntal style is entirely dominant in the finale, allowing the work to come to a weighty conclusion.
The work is known colloquially as "the Drum" by many Austrian musicians because of the obstinato rhythm in the finale of he variations movement.
                                                                                                                       M. C.
Mendelssohn          Four lieder arranged for string quartet by John Rotar
For its 2018 season, the Flinders Quartet has a special focus on the works of Felix Mendelssohn and has commissioned Australian composer John Rotar to arrange four of Mendelssohn's songs for string quartet.
The arrangement of songs for a string quartet presents artistic challenges. The arrangement must maintain the spirit of the original work, while expressing it in the unique harmonies and timbres  of the string quartet instruments. It must also retain some sense of what a "song" is – the expressive union of a voice and an accompaniment. For the performers it is challenging to engage the audience immediately, take them through a musical experience to a satisfying conclusion in the few short minutes of a song, compared to the sustained development and much longer duration of a string quartet.
The Quartet has chosen four very different songs to perform, but they each display Mendelssohn's poetic imagination, his sense of the dramatic and his gift for lyrical melodies and evocative rhythms,
Venetianisches Gondellied (Venetian Goldolier) of 1842 is based on a poem by the Irishman Tomas Moore. It is in the style of a barcarole, a Venetian boating folksong with a distinctive rhythm that suggests the movement of oars. The sense of movement in the song swells with intensity and urgency as a lover sings of crossing the moonlit lagoon to be with his "dearest Ninette".
Auf Flügeln des Gesanges (On Wings of Song) is an 1834 setting of a poem by the German Romantic poet Heinrich Heine. The song expresses the tenderness and longing of love in intimate whispering tones: "On Wings of Song, Sweetheart, I carry you away, Away to the fields of the Ganges, Where I know the most beautiful place."
Hexenlied (Witches Song). Mendelssohn wrote both the words and music for this song in 1827. Its frenetic rhythms and dissonant tones create a dramatic picture of witches flying through the stormy night to cavort with the devil in reckless abandon: "We all dance around Beelzebub and kiss his clawed hands."
Frage (Question) was composed in 1827. It is thought that Mendelssohn may also have written the words. With its gentle lilting rhythm and simple melody, the song expresses the purity of love, and the anxious heart that questions love: "What I feel, only she can grasp who feels it as well."
                                                                                                                       C. B.
Beethoven String Quartet no 16 in F major op 135

Allegretto / Vivace / Lento assai e cantabile tranquillo / Grave ma non troppo tratto – Allegro
Beethoven completed Opus 135 – his last string quartet - in October 1826, shortly before his death.  Chronologically it is grouped with Beethoven's "late string quartets"; it is no less accomplished than the other quartets in this group, but in place of their philosophical expansiveness, Opus 135 expresses a range of musical ideas and emotions with brevity and intimacy. It was written at a time of increasing ill health in Beethoven's life and agonising problems in the relationship with his beloved nephew Karl, yet its character is predominantly sunny, genial and uplifting. 
The first movement is in sonata form. The opening phrase is played by the viola, then the 'cello. The violins respond with gentle playful phrases that introduce the two beautifully simple and elegantly sustained themes of the sonata. The movement develops with liveliness and vibrancy. 
The second movement brings a sudden change. It is a scherzo full of energy. Fragments of melodies, surprising harmonies and unexpected rhythms from each instrument compete with each other. They whirl together in a fortissimo section, and then return briskly to the opening theme. 
The third movement is masterful. It begins with a quiet pensive theme that becomes the subject of four variations, each of which create both musical interest and a dramatic progression through different moods. The first variation restates the theme with growing intensity and solemnity. The second variation with its unsettled rhythms creates a feeling that is hesitant and anxious. In the third variation the rich timbres of the 'cello help to re-establish composure and dignity. In the final variation the violins express the theme with grace and a calm tenderness.
The final movement was inscribed by Beethoven with the words "Der shiver gefasste Ent shluss" (The difficult resolution). The quiet gently flowing introduction from the viola is mark by the words "Muss es sein" (Must it be). The violins then take up an emphatic allegro second theme marked by the words "Es muss sein" (It must be).  These words are often included as part of the Opus 135 title. There are different theories about their meaning. Could it be Beethoven, the man, resolute in overcoming melancholy and declaring his acceptance of destiny? Or could it be Beethoven, the composer, triumphant about the difficult decision of how to end the final movement of what he had declared would be his last string quartet?  Or could it be Beethoven, the businessman, reminding a rich patron about a disputed payment for his Opus 131 string quartet?
As the movement develops the first theme returns, no longer quiet and subdued, it erupts with power. The second theme returns with tranquillity and assurance, until it is interrupted by impish pizzicato from the violins just before the work comes to a buoyant and uplifting close. 
Opus 135 is a beautiful and appropriate finale to Beethoven's writing of string quartets. It shows both his influences and his legacy. The outer movements have  the clarity, lightness and elegance of Classical form while the scherzo has an abrupt boldness that looks ahead to our modern age, and the slow movement glows with the warmth and personal expression of the Romantic era. 
                                                                                                                             C. B.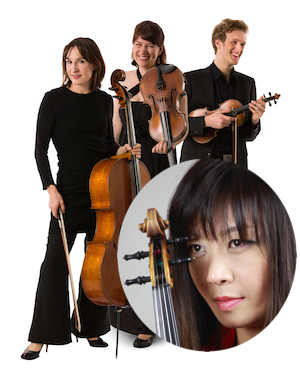 Our venue and how to access it
Our concerts are held in the Concourse Concert Hall, Victoria Avenue Chatswood. With its  superb acoustics, comfortable seating and many amenities, the Concourse Concert Hall is regarded as one of the best chamber music venues in Sydney.
Parking is available in the Concourse car park and in nearby shopping centre car parks. The venue is only a short walk from the Chatswood railway and bus transport interchange.
There are nearby restaurants and cafes, which give concert goers many options for dinner and socialising.
There is a licensed bar in the Concourse foyer where snacks, tea, coffee and drinks can be purchased before the concert from 7PM or during interval.
On concert nights, the Concourse foyer and terrace open at 7PM. Concert hall doors open at 7.30PM. Concerts begin at 8PM.
All tickets to Sydney Mozart Society concerts are general admission, seats are not numbered. The Concert Halll is spacious and good seating is assured.
Non-members are welcome
Single tickets for each of our  season concerts are very reasonably priced:
Adults, $45.90
Seniors/Pensioners, $42.85
Full-time student, $15.30
Children under 13, free
Tickets for our concerts can  be purchased in advance:
In person from the Concourse Box Office or from Ticketek agencies.
By phoning the Ticketek Theatre & Arts Line 1300 795 012.
Online through the Concourse website or the Ticketek website.
A Ticketek service delivery fee applies when tickets are booked by phone or online.