Sydney Mozart Society
Affiliated with the Mozarteum, Salzburg
Sydney Mozart Society brings you Mozart and much more from the 'Golden Age' of Chamber music.


Seraphim Trio
Friday, 29 June 2018 at 8pm
Helen Ayres (violin), Anna Goldsworthy (piano), Tim Nankervis ('cello)
Tickets for this concert can be purchased in advance
In person from The Concourse Box Office, Chatswood or from Ticketek agencies.
By phoning the Ticketek Theatre & Arts Line 1300 795 012.
Online at Ticketek
Programme
Mozart                       Trio in G major for piano, violin and 'cello,  K 496
Schumann                  Piano trio no 1 in D minor, op 63
Ravel                         Piano trio in A minor, M67
About the Artists
The Seraphim Trio is one of Australia's pre-eminent piano trios. Over their twenty two years together, the members of the Seraphim Trio - Helen Ayres (violin), Anna Goldsworthy (piano) and Timothy Nankervis ('cello) - have established a reputation for performing with finesse and impeccable quality.  They are well know to Australian audiences through their concert series, radio broadcasts, recordings and solo appearances.
Programme Notes
The Seraphim Trio's programme showcases the different musical worlds that the piano trio can create. Mozart's trio is one of the first great Classical piano trios; the voices of piano, violin and 'cello have equal prominence, elegantly intertwined in graceful harmonies. Schumann's piano trio has a Classical piano trio form, invested with an intensely personal character, filled with complex and conflicting emotions building to a glorious ending. Ravel's piano trio is beautifully crafted in the Classical form, enriched with the freshness of exotic melodies, surprising rhythms and vibrant tone colours.
MOZART  Trio in G major for violin, cello and piano, K 496
Allegro / Andante / Allegretto
Whereas Mozart designated the strings in his early trio sonatas as being mere accompanying instruments to the keyboard, the trio of 1786 (many years later) was called a  "trio for keyboard, violin and cello".   On the original title page of the work, Mozart wrote sonata,  but he entered Terzett into his personal catalogue of compositions.
As Roger Hellyer remarks, "For seventeen long measures at the start, the piano alone unravels one of Mozart's most sinuous opening themes" and "the second movement is one of Mozart's great slow movements, intricate, refined, and majestic".  The finale consists of a theme and six variations that offer some lighter relief after the intensity of the movement they follow.
Alfred Einstein writes that  "this is a real trio, in which the violoncello takes part in the dialogue, although somewhat more sparingly than the violin, and is not at all a mere later addition to a work complete without it".
                                                                                                                         M. C.
Detailed programme notes for other works will be available nearer to the concert date.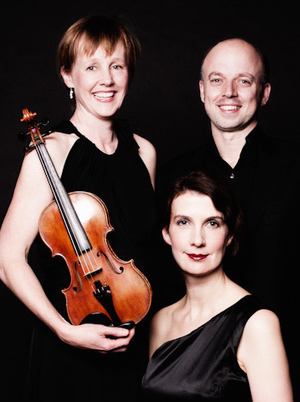 Our venue and how to access it
Our concerts are held in the Concourse Concert Hall, Victoria Avenue Chatswood. With its  superb acoustics, comfortable seating and many amenities, the Concourse Concert Hall is regarded as one of the best chamber music venues in Sydney.
Parking is available in the Concourse car park and in nearby shopping centre car parks. The venue is only a short walk from the Chatswood railway and bus transport interchange.
There are nearby restaurants and cafes, which give concert goers many options for dinner and socialising.
There is a licensed bar in the Concourse foyer where snacks, tea, coffee and drinks can be purchased before the concert from 7PM or during interval.
On concert nights, the Concourse foyer and terrace open at 7PM. Concert hall doors open at 7.30PM. Concerts begin at 8PM.
All tickets to Sydney Mozart Society concerts are general admission, seats are not numbered. The Concert Halll is spacious and good seating is assured.
Non-members are welcome
Single tickets for each of our  season concerts are very reasonably priced:
Adults, $45.90
Seniors/Pensioners, $42.85
Full-time student, $15.30
Children under 13, free
Tickets for our concerts can  be purchased in advance:
In person from the Concourse Box Office or from Ticketek agencies.
By phoning the Ticketek Theatre & Arts Line 1300 795 012.
Online through the Concourse website or the Ticketek website.
A Ticketek service delivery fee applies when tickets are booked by phone or online.