Sydney Mozart Society
Affiliated with the Mozarteum, Salzburg
Sydney Mozart Society brings you Mozart and much more from the 'Golden Age' of Chamber music.


Goldner String Quartet
Friday, 5 April 2019 at 8pm
Dene Olding (violin), Dimity Hall (violin), Irina Morozova (viola), Julian Smiles ('cello)
"...the quartet's playing is consistently fine." BBC Music Magazine, April 2017
" The Goldner String Quartet play with easy grace and flawless precision." ClassikON 2015
This concert  now over. You can read about the performance in our Thank You Goldner String Quartet news item

Programme
HAYDN -  String quartet in F major, Op 50 no 5, Hob III/48,  The Dream
BEETHOVEN -  String quartet no 11 in F minor, Op 95, Quartett[o] serioso
SCHUBERT -  String quartet no 14 in D minor, D 810, Death and the Maiden
About the Artists
Launched in 1995 and still retaining all four founding members, the Goldner String Quartet is Australia's pre-eminent string quartet. The players are well known to both Australian and international audiences through orchestral and solo performances, recordings and their concurrent membership of the Australia Ensemble@UNSW.  
The quartet has frequently toured overseas, to much critical acclaim. It regularly appears at major music festivals around Australia, in addition to national tours for Musica Viva.
Major  projects have included a 20th Century Retrospective, the Complete Beethoven Cycle recorded live for ABC Classics, and appearances at prestigious UK and European festivals. The quartet regularly commissions new works from leading composers.
Programme Notes
Music - like the works in this concert - can often convey the contradictions and complexity of life with a subtlety and depth of feeling that is impossible to express with words.  Haydn's Op. 50 quartet is radiant and airy but questioning with moments of unsettled introspection.  Beethoven's extrodinary Op. 95 quartet builds a powerful and dramatic tension only to banish it with unexpected and irrepressible joy. Schubert's Death and the Maiden quartet is lyrical yet achingly poignant, filled with intense emotions and dark beauty. 
HAYDN - String Quartet in F major, Opus 50, no 5  Hob  III/48  The Dream
 Allegro moderato / Poco adagio / Tempo di Menuetto: Allegretto/ Finale: Vivace
Haydn was the first great master of the string quartet form. He composed his Opus 50 set of six string quartets in 1787 when he was 57 years old and in the service of the Esterházy family, composing music for events at their vast estate. With their masterful technique, intelligence and lyrical beauty, the quartets are thought to have been Haydn's response to the wonderful set of string quartets that Mozart had dedicated to him several years earlier. Haydn dedicated the Opus 50 set to King Frederick William II of Prussia (an important patron of the arts), giving them their common name "The Prussian Quartets".  
The original autograph manuscripts for three of the quartets (including the one we will hear tonight) have an interesting history. After Haydn's death they were lost until 1982 when they appeared in Melbourne. The  manuscripts' journey to Melbourne began when Haydn's estate was being settled. They were taken to England and sold at an auction. The buyer later migrated to New Zealand taking the manuscripts with him. The manuscripts were then passed down through his family whose later generations enjoyed listening to recordings of the quartets while following the music on their Haydn manuscripts; it is a picture that probably would have delighted the good-natured Haydn.
The manuscripts were eventually bequeathed to an Australian member of the family, who presented them  to Christopher Hogwood during his visit to Melbourne for the 1982 Haydn Festival. The manuscripts were an important find because, free of publishers' annotations, they gave fresh insights into Haydn's intentions for the music, which were more adventurous than his early publishers had understood, particularly in the second and third movements of tonight's quartet.
The first movement of The Dream quartet begins with a charming duet between the violins, a second theme emerges bringing the viola and cello into exchanges with the violins. Their short sharp responses to the sweetness of the violins add piquancy to the movement. 
The second movement  features a slow melodic progression in which the voice of the violin gently rises in pitch while the other instruments descend. Occasional dissonant notes and  unsettled moments interrupt the flowing melodic line, these effects evoke the mysterious and other worldly mood that has given the quartet its nickname of The Dream. 
A minuet begins the third movement with an elegant stateliness that soon develops with a faster metre and stronger tones into a mood of restless freedom. It is followed by a trio that  takes up the theme of the minuet with all instruments playing in unison; the trio creates  a sense of order, gracefully bringing the movement back to its dignified opening. 
The final movement is strongly rhythmic, it builds with a vibrant energy that propels the work to a sparkling conclusion.
The Dream has a structure that is pleasing in its orderliness, its logic and its balance. Within this elegant structure, Haydn creates  a surprising variety of moods and rich details to give the work an ebullient quality, revelling in the joy of  life.
                                                                                                                             C. B.
BEETHOVEN - String quartet  no 11 in F minor, Op. 95 
Allegro con brio / Allegretto, ma non troppo / Allegro assai vivace, ma serioso /
Larghetto espressivo – Allegretto agitato – Allegro
Beethoven wrote String Quartet No 11 in 1810. He was forty years old and the leading Viennese composer of the day. He was financially secure thanks to an annuity from several of his wealthy patrons. Life should have been good, but darkness was descending. His health was deteriorating. Love and the prospect of a happy marriage eluded him. His faith in humanity declined as Napoleonic wars raged across Europe; the War of the Fifth Coalition in 1809 had been particularly brutal.  Austria's entry into the war and the occupation of Vienna by the French army brought death and hardship to Beethoven's doorstep. 
The quartet is an intensely personal work, twenty minutes of concentrated struggle, tension and finally uplifting release. Beethoven wrote to his publisher that it was "written for a small circle of connoisseurs and never to be performed in public." It would be six years before the quartet would be published. Beethoven himself gave the quartet its published title of "Serioso" (in a grave and thoughtful manner) from the tempo marking of the third movement. 
The first movement is in sonata form. Themes struggle with each other rather than develop politely. There are abrupt jumps through different keys. Harmonies are harsh and unexpected.  
The second movement begins with a melancholy theme that develops tentatively only to be swept up in a pounding insistent fugue. The fugue intertwines complex themes to create rich, dense harmonies. 
Then, without a pause the third movement begins. Its driving themes confront each other in brusque exchanges.  The fourth movement is mysterious and agitated; it builds to a frenetic climax before fading into whispers. Suddenly a short coda erupts with irrepressible exhilation and energy. 
The Serioso is powerful music expressed with rigour and boldness. After its completion, it would be more than ten years before Beethoven returned to the string quartet format. And when he did, the character and techniques of the Serioso  re-emerged in works of remarkable depth of feeling.
                                                                                                                            C. B.
SCHUBERT -  String quartet no 14 in D minor, D 810, Der Tod und das Madchen (Death and the Maiden)
Allegro / Andante con moto / Scherzo (Allegro molto) / Presto
At the end of January 1826, a group of string players gathered in Vienna to try out Schubert's new quartet, which later became known as the "Death and the Maiden" because the second movement is a theme and variations based on his song" Der Tod und der Madchen" composed in 1817. The composer himself was kept busy correcting the many mistakes in the freshly copied parts - a sort of "completion-on-the-run" of the work. The Schubert authority, Eric Otto Deutch, states that at the rehearsal the following evening Schubert shortened the first movement and made several other adjustments, Czerny published the work in 1831, three years after the composer's death.
The first, uneasy, movement opens with a decisive, rhythmic figure - one which you will hear in one guise or another throughout the entire work - and this is followed by a turbulent first subject and a lyrically beautiful second subject. In the theme and variations movement, some of the variations seem almost unconnected with the original theme although the music is intensely emotional and beautiful. According to Charles Stanley, the third movement. a scherzo, is one of the most powerful pieces that Schubert ever wrote; it pursues a relentless rhythm. punctuated with wild accents and decisive scale passages.
The quartet concludes with a presto, with much unison writing. There is a good deal of chromaticism  with notes flying outside the  work's key of D minor, contributing to a disconcerting and turbulent atmosphere and an almost despairing bleak outlook. It is intensely moving music that arouses deep emotions with its complexity and dark beauty.
                                                                                                                               M.C.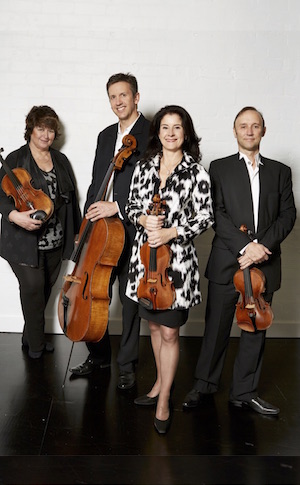 Our venue and how to access it
Our concerts are held in the Concourse Concert Hall, Victoria Avenue Chatswood. With its  superb acoustics, comfortable seating and many amenities, the Concourse Concert Hall is regarded as one of the best chamber music venues in Sydney.
Parking is available in the Concourse car park and in nearby shopping centre car parks. The venue is only a short walk from the Chatswood railway and bus transport interchange.
There are nearby restaurants and cafes, which give concert goers many options for dinner and socialising.
There is a licensed bar in the Concourse foyer where snacks, tea, coffee and drinks can be purchased before the concert from 7PM or during interval.
On concert nights, the Concourse foyer and terrace open at 7PM. Concert hall doors open at 7.30PM. Concerts begin at 8PM.
All tickets to Sydney Mozart Society concerts are general admission, seats are not numbered. The Concert Halll is spacious and good seating is assured.
Non-members are welcome
Single tickets for each of our  2019 season concerts are very reasonably priced:
Adults, $48
Seniors/Pensioners, $45
Full-time student, $18
Children under 13, free
Tickets can  be purchased in advance:
In person from the Concourse Box Office or from Ticketek agencies.
By phoning the Ticketek Theatre & Arts Line 1300 795 012.
Online through  the Ticketek website.
A Ticketek service delivery fee applies when tickets are booked by phone or online.