Sydney Mozart Society
Affiliated with the Mozarteum, Salzburg
Sydney Mozart Society brings you Mozart and much more from the 'Golden Age' of Chamber music.


Goldner String Quartet
Friday, 5 April 2019 at 8pm
Dene Olding (violin), Dimity Hall (violin), Irina Morozova (viola), Julian Smiles ('cello)
"...the quartet's playing is consistently fine." BBC Music Magazine, April 2017
" The Goldner String Quartet play with easy grace and flawless precision." ClassikON 2015
Tickets for this concert can be purchased in advance
In person from The Concourse Box Office, Chatswood or from Ticketek agencies.
By phoning the Ticketek Theatre & Arts Line 1300 795 012.
Book tickets online through Ticketek.
Programme
HAYDN -  String quartet in F major, Op 50 no 5, Hob III/48,  The Dream
BEETHOVEN -  String quartet no 11 in F minor, Op 95, Quartett[o] serioso
SCHUBERT -  String quartet no 14 in D minor, D 810, Death and the Maiden
About the Artists
Launched in 1995 and still retaining all four founding members, the Goldner String Quartet is Australia's pre-eminent string quartet. The players are well known to both Australian and international audiences through orchestral and solo performances, recordings and their concurrent membership of the Australia Ensemble@UNSW.  
The quartet has frequently toured overseas, to much critical acclaim. It regularly appears at major music festivals around Australia, in addition to national tours for Musica Viva.
Major  projects have included a 20th Century Retrospective, the Complete Beethoven Cycle recorded live for ABC Classics, and appearances at prestigious UK and European festivals. The quartet regularly commissions new works from leading composers.
Programme Notes
Music - like the works in this concert - can often convey the contradictions and complexity of life with a subtlety and depth of feeling that is impossible to express with words.  Haydn's Op. 50 quartet is radiant and airy but questioning with moments of unsettled introspection.  Beethoven's extrodinary Op. 95 quartet builds a powerful and dramatic tension only to banish it with unexpected and irrepressible joy. Schubert's Death and the Maiden quartet is lyrical yet achingly poignant, filled with intense emotions and dark beauty. 
SCHUBERT -  String quartet no 14 in D minor, D 810, Der Tod und das Madchen (Death and the Maiden)

Allegro / Andante con moto / Scherzo (Allegro molto) / Presto
At the end of January 1826, a group of string players gathered in Vienna to try out Schubert's new quartet, which later became known as the "Death and the Maiden" because the second movement is a theme and variations based on his song" Der Tod und der Madchen" composed in 1817. The composer himself was kept busy correcting the many mistakes in the freshly copied parts - a sort of "completion-on-the-run" of the work. The Schubert authority, Eric Otto Deutch, states that at the rehearsal the following evening Schubert shortened the first movement and made several other adjustments, Czerny published the work in 1831, three years after the composer's death.
The first, uneasy, movement opens with a decisive, rhythmic figure - one which you will hear in one guise or another throughout the entire work - and this is followed by a turbulent first subject and a lyrically beautiful second subject. In the theme and variations movement, some of the variations seem almost unconnected with the original theme although the music is intensely emotional and beautiful. According to Charles Stanley, the third movement. a scherzo, is one of the most powerful pieces that Schubert ever wrote; it pursues a relentless rhythm. punctuated with wild accents and decisive scale passages.
The quartet concludes with a presto, with much unison writing. There is a good deal of chromaticism  with notes flying outside the  work's key of D minor, contributing to a disconcerting and turbulent atmosphere and an almost despairing bleak outlook. It is intensely moving music that arouses deep emotions with its complexity and dark beauty.
                                                                                                                               M.C.
Programme notes for other works will be available nearer to the concert date.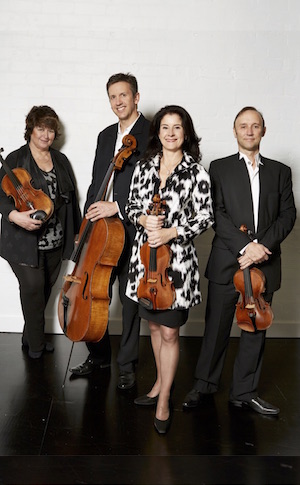 Our venue and how to access it
Our concerts are held in the Concourse Concert Hall, Victoria Avenue Chatswood. With its  superb acoustics, comfortable seating and many amenities, the Concourse Concert Hall is regarded as one of the best chamber music venues in Sydney.
Parking is available in the Concourse car park and in nearby shopping centre car parks. The venue is only a short walk from the Chatswood railway and bus transport interchange.
There are nearby restaurants and cafes, which give concert goers many options for dinner and socialising.
There is a licensed bar in the Concourse foyer where snacks, tea, coffee and drinks can be purchased before the concert from 7PM or during interval.
On concert nights, the Concourse foyer and terrace open at 7PM. Concert hall doors open at 7.30PM. Concerts begin at 8PM.
All tickets to Sydney Mozart Society concerts are general admission, seats are not numbered. The Concert Halll is spacious and good seating is assured.
Non-members are welcome
Single tickets for each of our  2019 season concerts are very reasonably priced:
Adults, $48
Seniors/Pensioners, $45
Full-time student, $18
Children under 13, free
Tickets can  be purchased in advance:
In person from the Concourse Box Office or from Ticketek agencies.
By phoning the Ticketek Theatre & Arts Line 1300 795 012.
Online through  the Ticketek website.
A Ticketek service delivery fee applies when tickets are booked by phone or online.