Sydney Mozart Society
Affiliated with the Mozarteum, Salzburg
Sydney Mozart Society brings you Mozart and much more from the 'Golden Age' of Chamber music.


Selby and Friends
Friday, 24 May 2019 at 8pm
Kathryn Selby (piano), Andrew Haveron (violin), Timo-Veikko Valve ('cello)
" Tight ensemble work and three master musicians at the top of their game..." Steve Moffat Daily Telegraph, May 2018
"The panorama of sounds of this crowning masterpiece soared as this musical ensemble performed one of Beethoven's best known chamber works." CultureWorks, March 2018
Tickets for this concert can be purchased in advance
In person from The Concourse Box Office, Chatswood or from Ticketek agencies.
By phoning the Ticketek Theatre & Arts Line 1300 795 012.
Book tickets online through Ticketek.
Programme
BEETHOVEN - Variations (7) on Mozart's "Bei Männern, welche Liebe fühlen" from The Magic Flute, for 'cello and piano, WoO 46
BEETHOVEN -  Violin sonata no 5 in F major, Op 24, Spring
BEETHOVEN – Concerto for violin, 'cello and piano in C major,  Op 56, Triple (Arranged by Carl Reinecke)
About the Artists
Kathryn Selby is one of Australia's pre-eminent chamber musicians. Her reputation as both a soloist and ensemble pianist is formidable. In this concert, she is joined by two distinguished musicians:  Sydney Symphony Orchestra  Concertmaster, Andrew Haveron and Australian Chamber Orchestra Principal 'Cello, Timo-Viekko Valve. Together, Selby and Friends have an exciting musical chemistry.
Programme Notes
This concert reminds us that there can be great warmth and intimacy in Beethoven's music. It begins with Beethoven's variations on a theme from Mozart's Magic Flute; piano and 'cello sing of love in its many moods - tenderness, exuberance and yearning. Beethoven's violin sonata  Op 24 explores a lyrical world filled with grace, generosity and elegance. While Carl Reinecke's arrangement of Beethoven's orchestral concerto Op 56 reaches deep emotions with its rich musical textures and powerful expression.
BEETHOVEN - Variations (7) on Mozart's "Bei Männern, welche Liebe fühlen" from The Magic Flute, for 'cello and piano, WoO 46
Mozart's opera The Magic Flute, written in 1796, celebrates the uplifting power of love. In an early scene Princess Pamina and the lowly bird catcher Papagano talk of life and love; Papagano wonders if he will ever have a wife, Pamina reassures him that one day he will find love. They then sing the Bei Männern duet praising the power of love between husband and wife, and the universal joy of love; " Love today and love tomorrow keep nature's circle turning true." 
The Magic Flute was Beethoven's favourite opera.  When he wrote his variations on the Bei Männern duet in1801 he was 31 years old and had established himself in Vienna as a successful composer and performer. He was famous, financially well-off and had formed lasting friendships with important musicians and patrons. Like Papageno in the Bei Männern duet, Beethoven longed for a wife; sadly he never married.
In the variations Beethoven has given the role of Pamina to the piano with bright soprano-like embellishments. The 'cello with its earthy masculine voice takes the role of Papagano. Beethoven's treatment  of piano and 'cello as equal voices in this and earlier works  is masterful; it is a partnership that he would go on use with great success in later double sonatas. 
Beethoven begins the work with a graceful unadorned statement of Mozart's original theme. If Mozart's theme is about the ideal of love, then Beethoven's variations are an unfolding revelation of the reality of love in all its complexity. 
The first two variations suggest the playfulness of love. Their staccato passages build in energy and exuberance. The mood changes in the third variation with its quiet soothing tones of tenderness and delicacy. In the fourth variation, a change to the minor key and beautiful slow exchanges between piano and 'cello suggest the sorrowful and yearning aspects of love. 
Bright energy and good-humour return in the fifth variation. The 'cello seems to chase the piano in mischievous mimicry. The sixth variation creates a dramatic contrast with quiet lingering moments when the tempo slows; the rhythm seems to suggest the beating of the human heart. The mood lifts in the final variation when the theme returns with clarity from the piano. Powerful responses from the  'cello bring the work to a fortissimo close. 
                                                                                                                             C. B. 
BEETHOVEN  Violin sonata no 5 in F major, Op 24, Spring
Allegro / Adagio molto expressivo / Scherzo: Allegro Molto / Rondo: Allegro ma non troppo
The years 1800 to 1803 marked the period when Beethoven was developing from writing works primarily modelled on the masters Mozart and Haydn to compositions beginning to show his own  originality. His First Symphony and the Op 18 String Quartets were among the first major works demonstrating this transitional period.
In 1801 he completed two impressive violin sonatas, Op 23 in A minor and Op 24 in F major. He  conceived the two works as a contrasting pair and originally planned for them to appear under the single opus number 23. While Op 23 is terse and concentrated, Op 24 is lyrically expansive.  As noted by Kinderman, these works were the first notable example of Beethoven juxtaposing dramatic opposing characteristics in a pair of works of the same genre - one in the major and the other in the minor. Later examples included the Waldstein and Appassionata Sonatas and the Fifth and Sixth Symphonies.
The nickname Spring was not used for the Op 24 until the 1860s but aptly links this fine sonata with other "pastoral" works inspired by Beethoven's well known love of nature.
Beethoven adds an additional movement, a short scherzo, to the then traditional three movement form and also includes a coda to the final Rondo movement. While in the Op 23 and earlier sonatas the keyboard takes the dominant role, in the Op 24 there is a thematic balance throughout between the instruments.  
The first movement commences with a long graceful melody in the violin. The more vigorous second subject with chromatic harmonies moves to the finale based the flowing main theme. The second movement is a serene melody initiated in the piano and answered by the violin.  The quick and playful Scherzo contains an offbeat dialogue between the violin and piano. The work closes with a subtle and elegant rondo with constantly varying melodic inventions. The short coda affirms the joyful atmosphere of the whole sonata.
                                                                                                                            R. C.
 BEETHOVEN - Concerto for violin, cello and piano in C major, Op 56 Triple (Arranged by Carl Reinecke)
Allegro / Largo / Rondo alla polacca 
Beethoven's Triple Concerto Op 56 was transcribed for the three solo instruments, cello, violin and piano, by the German pianist, conductor and composer Carl Reinecke in 1867,  more than 60 years after its composition and 40 years after the death of Beethoven.
Prior to the availability of recorded music, transcriptions of large orchestral works, especially concertos, were popular. The performance of these reduced versions enabled the works to be enjoyed by a much wider audience, not just in concert halls, but in private homes and other small venues.
The Triple Concerto is Beethoven's only Concerto for more than one solo instrument. Earlier similar works known as  Symphonie Concertante, had come to enjoy great popularity from the late 18th century, especially in Paris. Famous examples are Mozart's Symphonie Concertante for violin and viola K 364 and Hayden's Symphonie Concertante for violin, cello and bassoon Hob 1/105. Both of these works would have been known to Beethoven.
The Triple Concerto was written in 1804 during a period of intense creative activity for Beethoven in which he produced a series of towering masterpieces including the Eroica  Symphony, the 3rd and 4th Piano  Concertos, the Waldstein and Appassionata Piano Sonatas and the Razumovsky String Quartets.
It is though that he may have had in mind his then talented 15 year old piano pupil ( and later life long friend and patron) Archduke Rudolph, youngest brother of the Austrian Emperor, as the pianist, however there is no evidence that he ever performed this work. It was dedicated to another important patron and friend Prince Lobkowitz.
It was not well received at the premiere performance in 1808, but currently 200 years later, it is a popular performance piece. The " Triple Trio" provides a wonderful opportunity to hear this work without the full orchestra and adds another dimension Beethoven's piano trios.
It is " surely something new" Beethoven wrote in a letter after completing the work.It is in 3 movements, Allegro, Largo and Rondo alla Pollaca.  The cello is the first instrument to be heard in each movement. The first movement is grand and massive.  Of the brief second movement, Czerny writes that " it is soft, light and harmonious ". It contains a glorious melody for the cello. The final movement is a rondo in polonaise rhythm, lengthy and ebullient.
The transcriber of the Triple Concerto, German pianist, conductor and composer Carl Reinecke ( 1824 - 1910) was one of the most influential and versatile musicians of his time.  His teachers included his father, Felix Mendelssohn, Robert Schumann and Franz Liszt. His pupils included Edvard Grieg, Leos Janacek, Isaac Albeniz and Max Bruch. His appointments included Court Pianist in Copenhagen, Professor at the CoIogne Conservatory and in 1860 he was appointed director of the Leipzig Gewandhaus Orchestra and Professor of composition at the Conservatorium in that city. He led this orchestra until 1895. He remained active transcribing and composing concertos and also cadenzas for the works of other composers. His published works exceed 300. In 1904, at the age of 80, he made several recordings for the piano roll, making him the earliest born pianist to have had his playing preserved in any format.
                                                                                                                         H. M.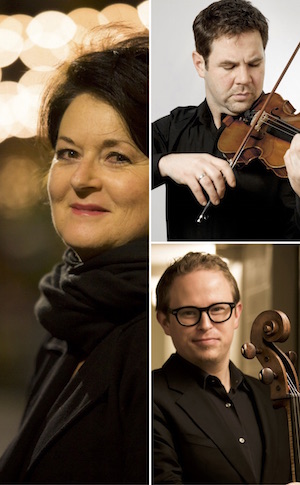 Our venue and how to access it
Our concerts are held in the Concourse Concert Hall, Victoria Avenue Chatswood. With its  superb acoustics, comfortable seating and many amenities, the Concourse Concert Hall is regarded as one of the best chamber music venues in Sydney.
Parking is available in the Concourse car park and in nearby shopping centre car parks. The venue is only a short walk from the Chatswood railway and bus transport interchange.
There are nearby restaurants and cafes, which give concert goers many options for dinner and socialising.
There is a licensed bar in the Concourse foyer where snacks, tea, coffee and drinks can be purchased before the concert from 7PM or during interval.
On concert nights, the Concourse foyer and terrace open at 7PM. Concert hall doors open at 7.30PM. Concerts begin at 8PM.
All tickets to Sydney Mozart Society concerts are general admission, seats are not numbered. The Concert Halll is spacious and good seating is assured.
Non-members are welcome
Single tickets for each of our  2019 season concerts are very reasonably priced:
Adults, $48
Seniors/Pensioners, $45
Full-time student, $18
Children under 13, free
Tickets can  be purchased in advance:
In person from the Concourse Box Office or from Ticketek agencies.
By phoning the Ticketek Theatre & Arts Line 1300 795 012.
Online through  the Ticketek website.
A Ticketek service delivery fee applies when tickets are booked by phone or online.