Sydney Mozart Society
Affiliated with the Mozarteum, Salzburg
Sydney Mozart Society brings you Mozart and much more from the 'Golden Age' of Chamber music.


Selby and Friends
Friday, 24 May 2019 at 8pm
Kathryn Selby (piano), Andrew Haveron (violin), Timo-Viekko Valve ('cello)
" Tight ensemble work and three master musicians at the top of their game..." Steve Moffat Daily Telegraph, May 2018
"The panorama of sounds of this crowning masterpiece soared as this musical ensemble performed one of Beethoven's best known chamber works." CultureWorks, March 2018
Programme
BEETHOVEN - Variations (7) on Mozart's "Bei Männern, welche Liebe fühlen" from The Magic Flute, for 'cello and piano, WoO 46
BEETHOVEN -  Violin sonata no 5 in F major, Op 24, Spring
BEETHOVEN – Concerto for violin, 'cello and piano in C major,  Op 56, Triple (Arranged by Carl Reinecke)
About the Artists
Kathryn Selby is one of Australia's pre-eminent chamber musicians. Her reputation as both a soloist and ensemble pianist is formidable. In this concert, she is joined by two distinguished musicians:  Sydney Symphony Orchestra  Concertmaster, Andrew Haveron and Australian Chamber Orchestra Principal 'Cello, Timo-Viekko Valve. Together, Selby and Friends have an exciting musical chemistry.
Programme Notes
This concert reminds us that there can be great warmth and intimacy in Beethoven's music. It begins with Beethoven's variations on a theme from Mozart's Magic Flute; piano and 'cello sing of love in its many moods - tenderness, exuberance and yearning. Beethoven's violin sonata  Op 24 explores a lyrical world filled with grace, generosity and elegance. While Carl Reinecke's arrangement of Beethoven's orchestral concerto Op 56 reaches deep emotions with its rich musical textures and powerful expression.
Detailed programme notes will be available closer to the concert date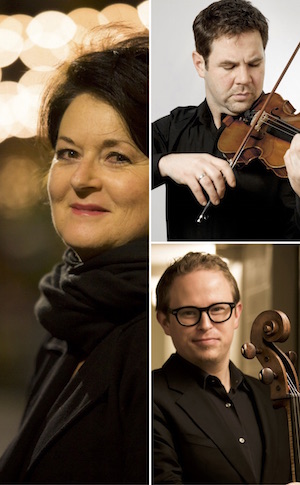 Our venue and how to access it
Our concerts are held in the Concourse Concert Hall, Victoria Avenue Chatswood. With its  superb acoustics, comfortable seating and many amenities, the Concourse Concert Hall is regarded as one of the best chamber music venues in Sydney.
Parking is available in the Concourse car park and in nearby shopping centre car parks. The venue is only a short walk from the Chatswood railway and bus transport interchange.
There are nearby restaurants and cafes, which give concert goers many options for dinner and socialising.
There is a licensed bar in the Concourse foyer where snacks, tea, coffee and drinks can be purchased before the concert from 7PM or during interval.
On concert nights, the Concourse foyer and terrace open at 7PM. Concert hall doors open at 7.30PM. Concerts begin at 8PM.
All tickets to Sydney Mozart Society concerts are general admission, seats are not numbered. The Concert Halll is spacious and good seating is assured.
Non-members are welcome
Single tickets for each of our 2019 concerts will go on sale later this year, through The Concourse and through Ticketek.