Sydney Mozart Society
Affiliated with the Mozarteum, Salzburg
Sydney Mozart Society brings you Mozart and much more from the 'Golden Age' of Chamber music.


Sophie Rowell and Kristian Chong
Friday, 27 September 2019 at 8pm
Sophie Rowell (violin), Kristian Chong (piano)
Programme
MOZART – Sonata for Piano and Violin in G Major, K. 301
BEETHOVEN - Sonata for Piano and Violin in A Minor, Op.  23
MOZART – Piano Sonata in B Flat Major, K. 570
SAINT-SAËNS – Sonata for Violin and Piano No.1 in D Major, Op. 75
About the Artists
Sophie Rowell is one of Australia's foremost violinists. Kristian Chong is one of Australia's leading pianists. Both are highly sought after in Australia and overseas as soloists, chamber musicians and recording artists.  Their musical partnership is formidable.
Read more about Spphie and Kristian
Programme Notes
Their concert is an evening of music as conversation, the eloquent dialogue of piano and violin in four great sonata works. Mozart's K. 301 sonata is wonderfully expressive with graceful exchanges between piano and violin. In Beethoven's Op. 23 sonata violin and piano tussle in complex dialogues- often witty and enigmatic, sometimes fiery then reserved, sometimes hesitant then forceful - but always beautiful. Mozart's K. 570 sonata is the gentle musing of an intelligent mind quietly contemplating life. While Saint-Saëns' sonata is a dramatic exchange of challenging ideas and heroic themes.
Detailed programme notes will be available nearer to the concert date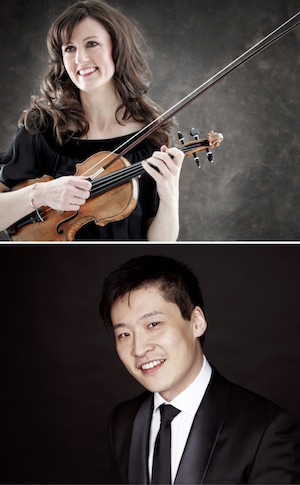 Our venue and how to access it
Our concerts are held in the Concourse Concert Hall, Victoria Avenue Chatswood. With its  superb acoustics, comfortable seating and many amenities, the Concourse Concert Hall is regarded as one of the best chamber music venues in Sydney.
Parking is available in the Concourse car park and in nearby shopping centre car parks. The venue is only a short walk from the Chatswood railway and bus transport interchange.
There are nearby restaurants and cafes, which give concert goers many options for dinner and socialising.
There is a licensed bar in the Concourse foyer where snacks, tea, coffee and drinks can be purchased before the concert from 7PM or during interval.
On concert nights, the Concourse foyer and terrace open at 7PM. Concert hall doors open at 7.30PM. Concerts begin at 8PM.
All tickets to Sydney Mozart Society concerts are general admission, seats are not numbered. The Concert Halll is spacious and good seating is assured.
Non-members are welcome
Single tickets for each of our 2019 concerts will go on sale later this year, through The Concourse and through Ticketek.