Sydney Mozart Society
Affiliated with the Mozarteum, Salzburg
Sydney Mozart Society brings you Mozart and much more from the 'Golden Age' of Chamber music.


Sydney Soloists
Friday, 2 August 2019 at 8pm
Bernadette Harvey (piano). Andrew Haveron (violin), Tobias Brieder (viola), Umberto Clerici ('cello), Francesco Celata (clarinet), Ben Jacks (horn)
Tickets for this concert can be purchased in advance
In person from The Concourse Box Office, Chatswood or from Ticketek agencies.
By phoning the Ticketek Theatre & Arts Line 1300 795 012.
Book tickets online through Ticketek.
Programme
MOZART – Divertimento for Violin, Viola and 'Cello in E Flat Major, K. 563
BRAHMS – Trio for Clarinet, 'Cello and Piano in A Minor, Op. 114
DOHNANYI – Sextet for Piano, Violin, Viola, 'Cello, Clarinet & Horn in C Major, Op. 37
About the Artists
The members of the Sydney Soloists have distinguished careers in orchestral, solo and ensemble performance. Many are principal performers in the Sydney Symphony Orchestra. As a chamber ensemble, they perform with passion, intelligence and masterful technique. 
Artistic Director Francesco Celata  described the special qualities of the group: "The core of the Sydney Soloists are orchestral players who know each other very well; we work together every week. Often we are joined by guest performers, whom we know well. So when we come together in a chamber group there is a natural rapport, a shared musical understanding and similar style. That familiarity is essential; it gives us a firm base, so that we can develop our ideas for the pieces we perform.  It is very satisfying to work as a group, all contributing ideas and working towards musical consensus and a beautiful performance."
Programme Notes
The Sydney Soloists' programme presents three unique masterworks that each explore  different and profound emotions of life. Mozart's lyrical divertimento for string trio expresses the joy and exuberance of life. Brahms' clarinet trio has a beautiful autumnal mood; sombre and dignified, it evokes feelings of tenderness and intimacy. Dohnanyi's septet is a late-Romantic work, grand in scope and heroic in spirit, but pulsating with the energy, vitality and unpredictability of twentieth century life.
Mozart   Trio divertimento in E flat for violin, viola and 'cello, K 563
 Allegro / Adagio / Menuetto: Allegro / Andante / Menuetto: Allegettro / Allegro 
Mozart's divertimento in E flat for string trio was written in summer 1788, shortly after the completion of his three last symphonies, for Michael Puchberg his merchant friend who often helped him out with money.  Mozart's use of the word "divertimento" to describe the work probably reflects its structure: two rapid outer movements and two slow movements alternating with two minuets.  This mature work is the only string trio that Mozart wrote and, while it is written for three instruments, has all the richness of a string quartet.
The first two bars of the opening allegro set the rather grave tone that permeates the first movement.  The beautiful second subject is unusual in that the viola plays the bass to the two-part harmonies expounded by the violin and 'cello.  The following adagio, in contrast, seems introspective and provides a measure of concentrated emotion.  Happiness and good humour enter with the first menuetto, in which the repeats (as in Mozart's symphonies) are varied and expansive.
The andante movement, which serves as a bridge between the two menuetti, opens with a wonderful theme played in octaves together by the violin and the viola, followed by four variations.  The first two brilliant variations, in the major, are suddenly contrasted by the short, third, variation in the minor.  The final variation returns to the major with sweeping, chorale-like, melody of the violin, accompanied by the warmth of the viola part.
The second menuetto envelopes two trio sections, the first being a Ländler – an Austrian peasant dance – and the second being rather like a courtly waltz.  The allegro finale is in rondo form, a joyful outburst that resolves some of the gravity of earlier movements.
                                                                                                                             M. C.
Programme notes for other works will be available nearer to the concert date.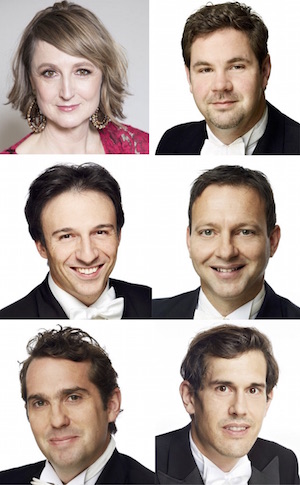 Our venue and how to access it
Our concerts are held in the Concourse Concert Hall, Victoria Avenue Chatswood. With its  superb acoustics, comfortable seating and many amenities, the Concourse Concert Hall is regarded as one of the best chamber music venues in Sydney.
Parking is available in the Concourse car park and in nearby shopping centre car parks. The venue is only a short walk from the Chatswood railway and bus transport interchange.
There are nearby restaurants and cafes, which give concert goers many options for dinner and socialising.
There is a licensed bar in the Concourse foyer where snacks, tea, coffee and drinks can be purchased before the concert from 7PM or during interval.
On concert nights, the Concourse foyer and terrace open at 7PM. Concert hall doors open at 7.30PM. Concerts begin at 8PM.
All tickets to Sydney Mozart Society concerts are general admission, seats are not numbered. The Concert Halll is spacious and good seating is assured.
Non-members are welcome
Single tickets for each of our  2019 season concerts are very reasonably priced:
Adults, $48
Seniors/Pensioners, $45
Full-time student, $18
Children under 13, free
Tickets can  be purchased in advance:
In person from the Concourse Box Office or from Ticketek agencies.
By phoning the Ticketek Theatre & Arts Line 1300 795 012.
Online through  the Ticketek website.
A Ticketek service delivery fee applies when tickets are booked by phone or online.