Sydney Mozart Society
Affiliated with the Mozarteum, Salzburg
Sydney Mozart Society brings you Mozart and much more from the 'Golden Age' of Chamber music.


Australia Ensemble
Friday, 25 October 2013 at 8pm
Dimity Hall (violin), Aiko Goto (guest violin), Irina Morozova (viola), Julian Smiles ('cello), Geoffrey Collins (flute) and Ian Munro (piano)
Programme
WEBER - Trio in G minor for flute, 'cello and piano, op 63, J 259
BEETHOVEN - Trio in C minor for violin, viola and 'cello, op 9 no 3
INTERVAL
MOZART - Quartet in C for flute, violin, viola and 'cello, K 285b (K ahn 171)
HAYDN - Symphony No 104 in D, Hob I:104  London
               arranged by Salomon for flute, string quartet and piano
About the Artists
The Australia Ensemble was formed in 1980 and is resident at the University of New South Wales. It has become the leading chamber music ensemble (as distinct from orchestra) in the country. Its core members are all virtuoso musicians, who are in high demand. Other leading musicians are frequently invited to join the group for concerts in their annual series in the Clancy Auditorium at UNSW.
Guest violinist, Aiko Goto, is a member of the Australian Chamber Orchestra and the Sonus Piano Quartet.
Programme Notes
WEBER Trio in G minor for flute, 'cello and piano, op 63, J 259
Allegro moderato / Scherzo: Allegro vivace / Schäfers Klage (Shepherd's Lament): Andante espressivo / Finale: Allegro
Carl Maria von Weber was five years old when Mozart died in 1791.  He was the eldest of the three children of Franz Anton von Weber and his second wife. The "von" was an affectation.  His father's brother, Fridolin, had four musical daughters, Josepha, Aloysia, Constanze and Sophie, all of whom became notable singers.  Mozart was hoping to marry Aloysia, composing several pieces for her.  After she had rejected his advances, however, Mozart turned his attentions to Constanze and went on to marry her.  Weber and Mozart were therefore cousins by marriage.
Weber's trio in G minor for flute, 'cello and piano closely resembles a Classical chamber work in its fairly even repartee and comparatively modest displays of technique; yet there are, too, flashes of the concertante style.  The work, dedicated to Philipp Jungh, Weber's friend and doctor, was composed in 1819 while Weber was serving as music director in Dresden. 
The melancholy, contemplative, first movement begins with long 'cello and flute lines over a throbbing piano accompaniment and is full of dramatic outbursts.  The second theme abounds in more conventional, Classical-style twittering and this tension between dark Romanticism and bright Classicism drives the movement's development with Romanticism having the last word.
The rather martial scherzo begins with a rugged, offbeat figure.  This alternates with a flighty waltz theme, providing a contrast strong enough to allow Weber to omit the customary trio section.
The third movement, The Shepherd's Lament, is in the tradition of the French aire pastorale, recalling a rustic scene with a lonely shepherd playing a song-like ballad on his flute.  The simple flute tune creeps along, not particularly sure of itself, which is gradually elaborated by all three instruments.
The long finale is more conventional, a loose assemblage of various themes, and displays Weber's gift for melody and invention.  Here, the instruments are given a freer rein, allowing each to come to prominence through the course of the movement and then to recede into the general ambience.
BEETHOVEN Trio in C minor for violin, viola and 'cello, op 9, no 3
Allegro con spirito / Adagio con espressione / Scherzo: Allegro molto e vivace /Rondo: Presto
Beethoven's opus 9 string trios were published in Vienna in 1798.  They are dedicated to one of the composer's patrons, Count Johann Georg von Browne-Camus, an officer of Irish descent who was in Catherine II's Russian Imperial Service.  These beautiful op 9 works follow Beethoven's earlier E flat string trio, op 3, completed in 1794 and publiished in 1796.  Apart from his op 8 serenade for string trio, Beethoven wrote no other works in this genre.
The C minor trio being heard in this programme is the third in the set.  Keith Anderson writes that it "is perhaps the most striking of a set which is in itself a remarkable testimony to Beethoven's precocious ability as a composer at a period when he was yet to write his first string quartets".
The trio opens with a four-note segment of the descending harmonic minor scale, played in crescendo by all three instruments, a motif which recurs throughout the first movement.  The second subject, in E flat major, is introduced by four sforzando chords. An energetic coda closes the movement.
Keith Anderson writes that the somewhat melancholy second movement (in C major) "starts softly with separated chords, but soon leads to a dynamic contrast and a repetition of the theme, that had first been entrusted to the violin, by the viola. The movement again brings dialogue between the instruments and always a fullness of texture belied by the medium of the string trio".
The rather agitated scherzo in C major starts with a forte chord which heralds two dynamically varied themes, and is contrasted by a reserved trio section in C minor.  The movement closes with a brilliant coda which, at the close, gradually softens to three almost whispered chords.
The rapid-fire finale is a rondo in sonata form. The main theme is driving and restless, and a second theme maintains the anxious, somewhat uncertain mood. Following the development section the recapitulation presents many changes to the previous material.  The work ends with a coda whose pianissimo ending brings relief from the general agitation of the movement.
MOZART    Quartet in C major for flute, violin, viola and 'cello, K 285b  (K Anh 171)
Allegro / Andantino
In mid-February, 1778, Mozart informed his father that he had completed two concerti and three quartets for Ferdinand de Jean, a wealthy amateur flautist who worked for the Dutch East India Company.   It is assumed that the quartets were the flute quartets catalogued by Köchel as numbers 285 (D major) and anh 171 (C major) in his first edition and 285a (G major) and 285b (C major) in his third edition.  The C major work is given a "real" K-number in the later edition of the catalogue, rather than being included in the supplement (Anhang), as it was in the first edition.  It is this quartet which is presented in tonight's concert.
Long-standing doubts about the authenticity of the first movement of the C major quartet have largely been dispelled by the recent discovery of a sketch of part of it in Mozart's own handwriting.  The second movement, a set of six variations, is virtually identical to the sixth movement of Mozart's brilliant Gran' Partita wind serenade, K 361, with the omission of a number of repeats.  Experts believe that the version for flute and strings is not the prototype for serenade but, rather, that someone unknown made an arrangement of the serenade movement.
HAYDN Symphony No 104 in D, Hob I:104  London
              arranged by Salomon  for flute, string quartet and piano
Adagio – Allegro / Andante / Menuetto. Trio: Allegro / Finale: Spiritoso
The so-called London symphony is, in fact, the twelfth of the symphonies that Haydn wrote in London.  Indeed, Haydn made a remarkable impact on London's musical life and was there treated as the great musician that he was.  His first visit, during which symphonies 93 to 98 were written and performed in 1791 and 1792, was in response to a commission coming from the violinist, impresario and composer, Johann Peter Salomon.  Haydn was able to undertake this journey following the death in Esterházy of his patron, Prince Nicholas, and his successor's lack of musical interest, thus releasing him from a life of comparative seclusion.  Symphonies 99 to 104 followed during Haydn's second London sojourn in 1794 and 1795.  Some of these symphonies, including the last (which alone carries the specific title "London"), are for 'large' Haydn orchestras which include pairs of flutes, oboes, clarinets, bassoons, horns and trumpets as well as strings and kettledrums.  This last symphony was premièred at the King's Theatre in a concert featuring many of Haydn's own compositions and it was directed by the composer.  According to an entry in Haydn's  diary, "The whole company was thoroughly pleased and so was I.  I made 4000 gulden on this evening; such a thing is possible only in England".
Many of Haydn's later symphonies start with slow introductions, as does the London symphony, although this last one is perhaps the grandest.  This introduction in D minor leads to the stately allegro that dominates the main part of the first movement, in which you will hear offbeat accents, played by the second violin, that seem to provide an extra driving pulsation.  The second subject, which is introduced at bar 80, seems a passing thought and, in fact, is simply the first theme transposed to the key of A major. The movement closes with a coda.
The slow, andante, movement has three sections, the first and third of which are based on a theme in G major, part of which appears in the middle section in the minor key together with a powerful passage in D minor.  In the energetic menuetto of the third movement, you will hear heavy offbeat accents; this menuetto encloses a sudden, contrasting, softer, trio section in B flat.
The only important theme of the spirituoso finale is introduced in folk-music style by the violins, supported by a drone bass ― a tonic pedal provided by 'celli and horns ― which emphasizes its rural character; the theme is sometimes claimed to be based on a Croatian folk song.  The rest of the movement is typical of Haydn's exuberant, fast moving, endings to his symphonies.  This theme alternates with occasional other short, unimportant, episodes so that, formally speaking, the movement has a rondo form.  In reality, however, this finale can be seen as a symphonic development of the introductory theme.
Among Salomon's own 'compositions' is a number of arrangements of Haydn's works including nine pre-London symphonies for piano, flute and string quartet, and all twelve of his London symphonies for piano trio, and for piano, flute and string quartet as well.  It is the latter version of Haydn's last symphony that members of the Australia Ensemble are performing this evening.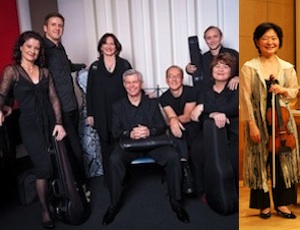 Our venue and how to access it
All our concerts are held in the magnificent Gillian Moore Centre for Performing Arts at Pymble Ladies' College. The auditorium has 500 seats on the main level and a further 250 in the balcony. There is provision for wheelchairs; if you would like to use these facilities, please telephone us a day or so before the concert you wish to attend.
There is plenty of parking available in the school grounds and adjoining streets. However, we cannot guarantee all parking areas in the school grounds will be available on the evening of a concert. Occasionally the school may close some parking areas for building works.
The venue is about ten minutes' walk from Pymble railway station; use the short tunnel under the Pacific Highway to reach Avon Road. Access by car is easy, too: from the Pacific Highway, turn down Livingstone Avenue (at the traffic lights), then right into Everton Street, bear right at the roundabout (do not turn left down Pymble Avenue) and then turn sharp left along Avon Road. The main entrance to the college is a short way on the left along Avon Road, but much more cost-free parking is available in the school grounds at the end of Avon Road (follow the road down the hill after it turns left further on). The five-minute walk from the lower car parks to the auditorium is along well lit walkways.
For further information, please call 9498 4700, 9876 3815 or 9440 4976.
Non-members are welcome
Members are admitted free on presentation of membership cards - there are no other charges - not even for concert programs.
Non-members are welcome to attend individual concerts. Admission prices are:
regular $30,
seniors and pensioners $28,
full-time students under 23 $8
children under 13 are admitted free.
Our tickets are un-numbered and seats cannot be reserved, but good seating is available throughout the auditorium, with the doors opening at 7:30pm. Our ticket office opens at 7:15pm on concert evenings. We regret that we cannot take advance bookings.
Refreshments are available before the concert, from about 7:00pm, and during the interval.