Sydney Mozart Society
Affiliated with the Mozarteum, Salzburg
Sydney Mozart Society brings you Mozart and much more from the 'Golden Age' of Chamber music.


3MBS Mozart Marathon
If you're in Melbourne on Sunday 26 February 2017 or know music lovers in Melbourne, don't miss the 3MBS Mozart Marathon. For ticket information visit http://www.hawthornartscentre.com.au/event/3mbs-mozart-marathon/ or call  Hawthorn Arts Centre on 9278 4770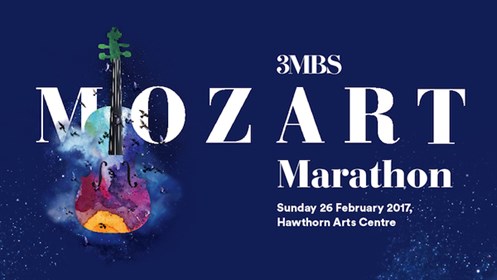 Across six sessions in one day, artistic curator Chris Howlett will bring together many of Australia's finest chamber and vocal musicians to perform some of Mozart's greatest masterpieces.
Highlights of the all day program include Mozart's Piano Sonata No. 8 A minor K 310, Piano Sonata No. 11 A major K 331, the iconic Clarinet Concerto, Oboe Quartet and a violin concerto, closing with Serenade No. 13 in G major, K 525.
Musicians will include Jeffrey Crellin, Paul Dean, Andrew Goodwin, Australian Piano Quartet, Stefan Cassomenos, Daniel de Borah, Goldner String Quartet, Wilma Smith, Ian Munro, Arcadia Quintet, Timothy Young, Curt Thompson, Elyane Laussade, Kathryn Selby, David Griffiths, Rebecca Chan, Svetlana Bogosavljevic, Kristian Chong, Tristan Lee and Sutherland Trio.
The marathon will be held in Hawthorn Arts Centre, 360 Burwood Road, Hawthorn.  It will be made up of six sessions  with the first session commencing at 9.30 am and the last session finishing at 9.30 pm.  
As part of the Marathon, 3MBS are planning to open a second stage with a children's education component for 4 – 12 year olds that will showcase Mozart's life and music through fun and exploratory narrated adventure. There will be two 45 minute concerts; one in the morning and one in the afternoon.
Do you know anyone or any organisation who is passionate about children's music education and/or Mozart who would be interested in supporting it financially? If so, 3MBS would like to hear from you. Contact the General Manager by email gm@3mbs.org.au or phone (03) 9416 1035.
Posted on Friday, 4 November 2016 at 8pm