Sydney Mozart Society
Affiliated with the Mozarteum, Salzburg
Sydney Mozart Society brings you Mozart and much more from the 'Golden Age' of Chamber music.


ABC Young Performer of the Year Award Recitals
The Young Performers Award (YPA) is Australia's premier national artist development programme for young musicians, instrumentalists and performing artists. Over the years, many  of the performers in Sydney Mozart Society concerts have themselves been past ABC Young Performer of the Year awardees; it's a distinguished group including such performers as Tamara-Anna Cislowska, Natalie Chee, Kristian Chong, Sophie Rowell and Duncan Gifford.
In 2018, after two rounds of adjudication twelve semi-finalists have been selected by a panel of internationally-recognised musicians and music experts, chaired by Dene Olding.
The semi-finalists' recitals and the awards concert are coming up in July. By attending these recitals you'll be supporting the future stars of Australian classical music. Get to know them now; they might be performing in concerts presented by Sydney Mozart Society one day!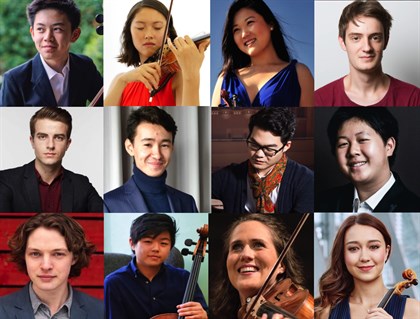 2018 Semi-FinalistsTop: Benett Tsai, 'cello, Victoria Wong, violin, Emily Sun, violin, Riley Skevington, violinMiddle: Oliver Shermacher, clarinet, Robbin Reza, piano,Toby Lee, piano, Shuan Hern Lee, pianoBottom: Andrey Lebedev, guitar, Waynne (Wook Seok) Kwon, 'cello, Stephanie Farrands, viola, Anna Da Silva Chen, violin                               
                                          Semi-Final Recitals
This year the  Young Performers Awards Semi-Finals Recitals will be held at at City Recital Hall on 16-17 July. The recitals are  are very reasonably priced. The 12 Semi-Finalists will perform in 6 concerts over two days. Each concert will present 2 recitals of 45 minutes each. To attend one concert is $15, but you can get a day pass for 3 concerts for $30, and a 2 day pass is only $50!
Visit the City Recital hall website for full details. 
                                       Award Finals Concert
The Award Concert will be at the Sydney Opera House on 24 July, Three finalists will each perform a concerto accompanied by the Sydney Symphony Orchestra conducted by Dr Nicholas Milton AM.
Tickets are reasobably priced and are being offered with a 20% discount for a limited time.
Visit the Opera House website for full details
Posted on Thursday, 17 May 2018 at 6pm