Sydney Mozart Society
Affiliated with the Mozarteum, Salzburg
Sydney Mozart Society brings you Mozart and much more from the 'Golden Age' of Chamber music.


Australian World Orchestra
The Australian World Orchestra is one of the great achievements of Australian music. So many brilliant and talented Australian musicians in one orchestra! And many of them have performed for Sydney Mozart Society over the years: Franceso Celata ( clarinet), Sophie Rowell (violin). Emma Sholl (flute), Tim Nankervis (cello).... the list goes on.
Show your support for the musicians who have given us so much enjoyment by going along to the orchestra's 2016 concert performances.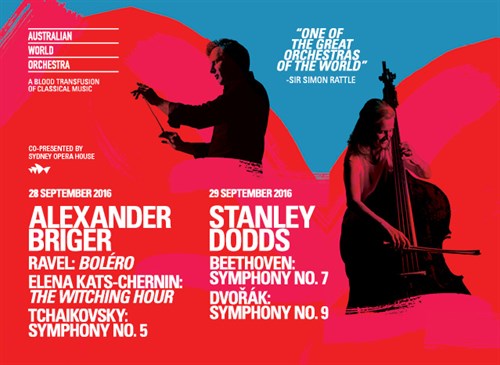 What better expression of nationalism is there than an all-Australian orchestra... a global A-team of orchestral musicians?"  - Michael Shmith, Australian Book Review

In just over one week, 94 of Australia's finest musicians will return home for the fifth anniversary season of the Australian World Orchestra. 

These "musical gems" play in the world's greatest orchestras both here and overseas; from the Berlin and Vienna Philharmonics, the Chicago and London Symphony orchestras to our own wonderful state ensembles.

Don't miss your chance to experience the brilliance of Australia's finest musicians when they come together on stage for two nights only. Performing two electrifying programs of Dvořák, Ravel, Beethoven, Tchaikovsky and the thrilling premiere of Elena Kats-Chernin's Concerto for 8 Double Basses and Orchestra The Witching Hour.
For more details  visit the Australian World Orchestra website  
Posted on Friday, 16 September 2016 at 11am