Sydney Mozart Society
Affiliated with the Mozarteum, Salzburg
Sydney Mozart Society brings you Mozart and much more from the 'Golden Age' of Chamber music.


Crossroads Chamber Music Festival 2017
We've received news that the Crossroads Chamber Music Festival 2017 is scheduled for the 19th and 20th August, at Greenway Chapel in Green Point, Central Coast. The Festival is in its Tenth Year and is being presented by Charmian Gadd and Friends. The festival is supported by the Department of Education through the Regional Conservatorium Grants Program and by Central Coast Conservatorium.
                                                      Charmian Gadd
To celebrate a decade of international offerings, this year's Festival is dedicated to the memory of Richard Goldner, the refugee from Hitler's Vienna who founded Musica Viva in 1945. It is twenty five years since Richard's death and his great and varied international legacy deserves to be celebrated!
Richard Goldner was a highly unusual character, musician, teacher, inventor, artist, writer and self described "psycho-ceramic". His early life up to coming to Australia and starting Musica Viva is the subject of a book by Suzanne Baker entitled "Beethoven and the Zipper" which may become a movie. It is certainly the most extraordinary tale. Musica Viva was financed from the sale of an invention, a new type of zipper which Richard produced for the Australian Army Inventions Bureau while classified as an enemy alien during World War 2!
His legacy spans the globe with a high concentration in the USA where his post Musica Viva life led him. He held a Professorship at Duquesne University in Pittsburgh where he developed the Playonair shoulder rest for violin and several other musical inventions. In retirement in Bellingham, Washington he started Musica Viva International in 1987 to present chamber music concerts and generally enrich musical life in his adopted community.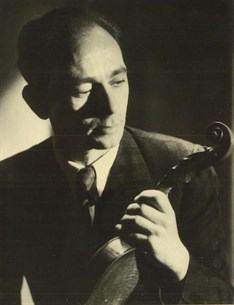 Richard Goldner    
 Festival Philosophy
Music is a language and a culture that unites people in experiencing beauty and inspiration. It is part of the great artistic tradition bequeathed to us from the Renaissance to today. Music's marvel is its sheer inclusivity: all can share in the genius of the great composers and the exhilaration of hearing that genius brought to life in performance.
Concerts
The August weekend Festival will present four concerts and several added special events as can be expected from Charmian and Friends. Each will feature a different aspect of Richard's life.

CONCERT #1 - Youth, Exuberance and Extraordinary Talent - Saturday 19 August 11.00am
The audience will hear from several  exciting young artists. This particular focus highlights the extraordinary series of prodigious children who gladdened his retirement in USA, not to mention his gifted students from Australia and Pittsburgh. He was a dedicated and inspiring teacher and a formidable disciplinarian in coaching chamber music. His ex-students span three continents,- soloists, chamber musicians, teachers and orchestra members, many of whom kept in contact with him till his death.
CONCERT # 2 - Musica Viva Ensemble - Saturday 19 August 3.00pm
Concert two after a lunch on-site will remember the original Musica Viva Ensemble consisting of a string quartet of Robert Pikler, Eddie Cockman, Richard Goldner and Teddy Salzman, with teenager, Maureen Jones joining them as pianist. The programme will consist of the Archduke Trio by Beethoven and the A Major Piano Quintet of Dvorak. 

CONCERT # 3 - Chamber Music - Sunday 20 August 11.00am

Concert three will feature large works of the chamber music literature: Brahms G major Sextet and Mendelssohn's Octet.

CONCERT # 4 - The Goldner Quartet - Sunday 20 August 3.00pm

After lunch, The Goldner Quartet will present a special programme including a preview of a new work by Hindson, in keeping with Richard's insistence on the inclusion of contemporary works into Musica Viva programmes during his twenty years as Honorary Music Director. Schubert's Quartetsatz and the Beethoven Cavatina from opus 130 will complete the first half. They performed this great work at Richard's memorial concert before they had adopted his name and were known as members of the Australia Ensemble. The concert and the Festival will conclude with Dvorak's American Quartet.
Venue
All concerts will be at Greenway Memorial Chapel, 460 Avoca Drive, Green Point. 
Ticketing
Full Subscription (including lunch + all four concerts) $120
Full Subscription (no lunch, all four concerts) $105
Single Tickets:  Adults $35 per concert  |  Children (school aged) $15 per concert
Central Coast Conservatorium Students FREE
Tickets can only be booked through the Centrral Coast Conservatorium of Music website
Posted on Monday, 17 July 2017 at 10pm