Sydney Mozart Society
Affiliated with the Mozarteum, Salzburg
Sydney Mozart Society brings you Mozart and much more from the 'Golden Age' of Chamber music.


Flamingo Opera
We are pleased to pass on news about Flamingo Opera
Flamingo Opera is a recently formed, student-run opera company for emerging artists based in Sydney. This is its debut event, a workshop concert performance (with music) of Mozart's operas "Apollo et Hyacinthus", composed when he was 11, and "Bastien und Bastienne", composed when he was 12. The performance also commemorates 250 years since the latter opera was composed. All the performers are studying at the Sydney Conservatorium of Music.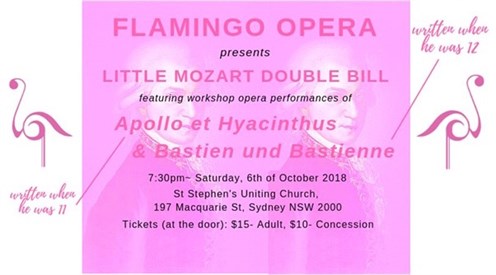 FEATURED ARTISTS: 
Apollo et Hyacinthus (1767)
Oebalus - Hamish James (tenor)
Melia - Bianca Bacchiella (soprano)
Hyacinthus - Michael Burden (counter-tenor)
Apollo - Rebecca Hart (mezzo-soprano)
Zephyrus - Geoffrey Carman (bass-baritone), covered by Elora Rose Ledger (mezzo-soprano)
Bastien und Bastienne (1768)
Bastienne- Madeleine O'Dea (soprano)
Bastien- Oscar Ball-Bowness (tenor)
Colas- Geoffrey Carman (bass-baritone)
Accompanist- Su Choung
Special Thanks to: St Stephens Uniting Church for the venue
Posted on Sunday, 30 September 2018 at 7pm