Sydney Mozart Society
Affiliated with the Mozarteum, Salzburg
Sydney Mozart Society brings you Mozart and much more from the 'Golden Age' of Chamber music.


Pacifica Quartet Offer
We are pleased to pass on an offer from Musica Viva for members and friends of Sydney Mozart Society to see  the internationally renowned Pacifica Quartet in Sydney.
Experience the exuberance of the  Pacifica Quartet in a virtuosic performance of  classics by Beethoven, Shostakovich, Haydn and more! Touring nationally in June and performing at the City Recital Hall, Sydney on Saturday 24  June and Monday 26 June.
Enjoy 25% off full price tickets by entering the code: PQJUNE when purchasing tickets through Musica Viva. To find out more about the concert and to book tickets, visit    musicaviva.com.au/pacifica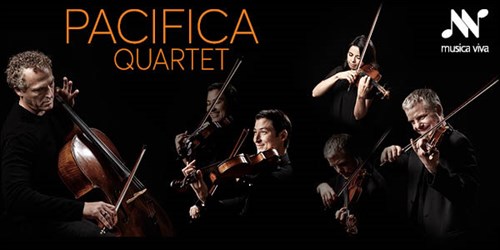 Simin Ganatra violin, Sibbi Bernhardsson violin, Masumi Per Rostad viola, Brandon Vamos cello
                              PROGRAM  Saturday 24 June 2 pm
                              WESTLAKE String Quartet no 2
                              BEETHOVEN String Quartet no 16, op 135
                              SHOSTAKOVICH String Quartet no 3, op 73
                               PROGRAM  Monday  26 June 7 pm
                              HAYDN String Quartet in G major, op 76 no 1
                              WESTLAKE String Quartet no 2
                              MENDELSSOHN String Quartet in A minor, op 13
Posted on Saturday, 27 May 2017 at 5pm