Sydney Mozart Society
Affiliated with the Mozarteum, Salzburg
Sydney Mozart Society brings you Mozart and much more from the 'Golden Age' of Chamber music.


ClassikON Review: Verbrugghen Ensemble
On Friday 19 August, we experienced a wonderful concert performed by the Verbrugghen Ensemble, the recently formed ensemble in residence at the Sydney Conservatorium of Music.
Daniel Kaan from ClassikON came to the concert and we are very pleased he enjoyed it.  "A distinguished group performing at a high standard with focus and intensity" he said. You can read his comments and insights about musical technique in his review posted on the ClassikON website . Thank you to Daniel and to the ClassikON Team for publishing the review.
We hope that our rehearsal photos (taken by Charmain Boyakvsky)  captured some of that "focus and intensity".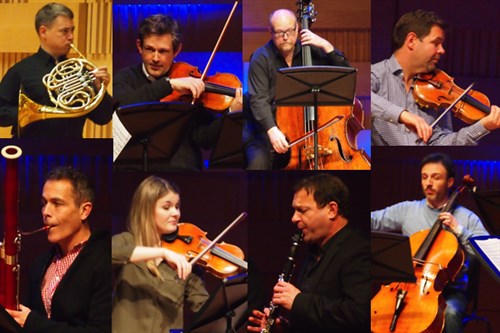 (top row L-R) David Thompson, Rodger Benedict, Alex Henery, Andrew Haveron 
(bottom row L-R) Andrew Barnes, Bridget O'Donnell, Francesco Celata, Umberto Clerici
Posted on Monday, 22 August 2016 at 7pm