Sydney Mozart Society
Affiliated with the Mozarteum, Salzburg
Sydney Mozart Society brings you Mozart and much more from the 'Golden Age' of Chamber music.



About The Seraphim Trio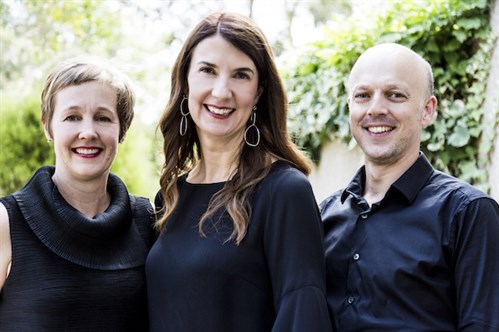 Photo credit: Pia Johnson
  

Over many years, Helen Ayres, Anna Goldsworthy and Tim Nankervis have remained steadfastly committed to chamber music – from building the contemporary repertoire, to developing new audiences and teaching the next generation of performers. 

Winners of the Piano Trio Prize and the Audience Choice Award at the Australian National Chamber Music Competition in 2001 (now the Asia-Pacific Chamber Music Competition), Seraphim Trio has regularly performed at the Melbourne International Arts Festival, the Port Fairy Spring Music Festival, the Adelaide Festival of Arts, the Peninsular Summer Music Festival and in 2013, Opera Australia's Ring Festival in Melbourne.

The Trio has its own highly-regarded subscription series . It is frequently broadcast on ABC Classic FM and on the Fine Music network, and maintains a robust commissioning program.

The Trio has collaborated with many leading musicians, including Diana Doherty, Paul Dean, Lisa Harper-Brown and David Elton.  In October 2019, the ARIA award for the year's best classical album was presented to Paul Kelly and James Ledger for their collaboration with the Seraphim Trio on the song cycle "Thirteen Ways to Look at Birds".

The group has studied in Germany with Hatto Beyerle, and in Australia with William Hennessy, Eleonora Sivan, Mark Mogilevski, Ronald Farren-Price and Lois Simpson.

 
 

Anna Goldsworthy (piano)  is one of Australia's most acclaimed and versatile musicians. As a piano soloist, she has performed extensively throughout Australia and internationally, and as a chamber musician she is a founding member of Seraphim Trio.

Anna's literary publications include the memoirs Piano Lessons and Welcome to Your New Life, as well as the Quarterly Essay Unfinished Business. 

She is currently a Lecturer in Ensemble at the Elder Conservatorium of Music, a Research Fellow at the J.M. Coetzee Centre for Creative Practice at the University of Adelaide, and the Kenneth Moore Memorial Music Scholar at Janet Clarke Hall.

Recent musical highlights include solo appearances at the Melbourne Recital Centre and with the Sydney Symphony Orchestra; a tour as soloist with the Melbourne Chamber Orchestra; a nine-city solo piano tour of China; Seraphim Trio's Australian concert season celebrating the history of the piano trio; and Seraphim Trio's London debut. Anna curated the mini-festival 'Chamber Landscapes' for the 2017 Adelaide Festival, and edited Best Australian Essays 2017.

 
 
 

 

Helen Ayres (violin) is a Doctoral graduate of the University of Melbourne.  She was a member of Flinders Quartet for many years and has performed with the Melbourne Chamber Orchestra, the Australian Octet, Astra Ensemble, Syzygy, and Ensemble Liaison.

Helen has held a full-time position with the Melbourne Symphony Orchestra and has appeared as guest principal with Orchestra Victoria and the Tasmanian Symphony Orchestra.

For some time Helen iived in the United Kingdom, performing in the London Philharmonic Orchestra and the BBC Scottish Symphony Orchestra, and studying pedagogy at the Yehudi Menuhin School.  

 

 

 

 

 
 

Timothy 'Tim' Nankervis (cello) completed his Bachelor of Music degree in Sydney with Lois Simpson and graduated from Melbourne University with a Master of Music degree studying with Nelson Cooke. He has studied in London with William Pleeth and Raphael Wallfisch, and with Vadim Chervov at the Tchaikovsky National Academy of Music in Kiev.

He has been a  member of the Sydney Symphony Orchestra since 2004. 

He has won numerous awards for cello performance and chamber music and as a member of the acclaimed Seraphim Trio. Tim is an active chamber musician being a member of the Sonus Quartet, as well as performing with the Linden Trio, Sydney Soloists and Sydney Symphony Chamber Music.

He has performed widely throughout Australia as a soloist and has broadcast regularly for the ABC and 2MBS-FM. He has performed the Beethoven Triple Concerto and Brahms Double Concerto with orchestras in Sydney and Queensland, and he has performed as soloist with Orchestra Victoria, playing Tchaikovsky's 'Rococo' Variations.

Tim teaches at the Conservatorium of Music in Sydney and tutors regularly for Sydney Sinfonia, Sydney Youth Orchestra and Australian Youth Orchestra.