Sydney Mozart Society
Affiliated with the Mozarteum, Salzburg
Sydney Mozart Society brings you Mozart and much more from the 'Golden Age' of Chamber music.



2019 IFAC Handa Finals Concert
The IFAC Handa Australian  Singing Competition is regarded as Australia's most prestigious classical voice competition, uncovering Australasia's best emerging singing talent. 
Five incredible young vocal artists have made it through to the Finals. They will be appearing in concert with the Opera Australia Orchestra, under the baton of Dr. Nicholas Milton AM at The Concourse, 7pm, 19 September 2019. 
It's a concert that should be especially attractive for Sydney Mozart Society members and friends. 
It's an opportunity to hear the singing stars of tomorrow in a programme that includes many works by Mozart. 
It's also an opportunity to see the Australian Opera Orchestra on stage, rather than just hearing them from the orchestra pit. Many of the orchestra players have appeared for the Society as members of chamber ensembles, so it will be great to see some familiar faces on stage in their orchestra roles. 
The Concourse, 7pm, 19 September 2019
Visit aussing.org for more information about the competition, the finalists and the concert 
Visit  Ticketek for tickets.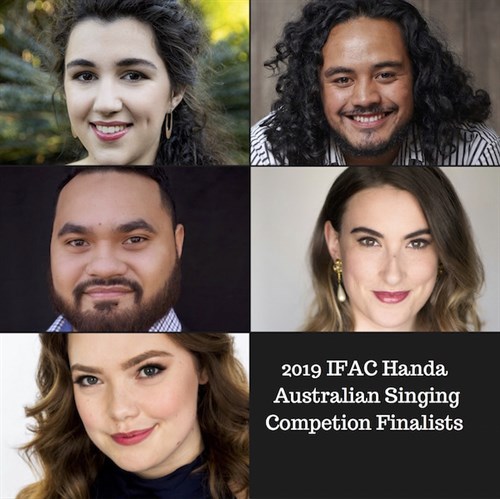 Clockwise from top left
          Bianca Bacchiella soprano, Sampson Setu bass baritone, Rebecca Hart mezzo
          soprano, Josie Ann Ellem soprano, Manase Latu tenor
         (Photos: Courtesy of IFAC  Handa)
                                                                                                                   Charmain Boyakovsky
Posted on Tuesday, 10 September 2019 at 8am