Sydney Mozart Society
Affiliated with the Mozarteum, Salzburg
Sydney Mozart Society brings you Mozart and much more from the 'Golden Age' of Chamber music.


Fine concerts in suburban Sydney
There is no need to travel to the city to hear fine chamber music.The Sydney Mozart Society offers you a season of six concerts in Chatswood at significantly less cost than listening to the same artists in city venues.
Society News
Next Concert
Friday, 27 April 2018 at 8pm
Australian World Orchestra Chamber Ensemble
Daniel Dodds (violin), Natalie Chee (violin), Sally Clarke (viola), David Berlin ('cello), Francesco Celata (clarinet), Tamara-Anna Cislowska (piano)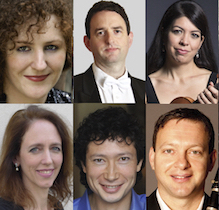 Save with us
As a volunteer-run enterprise, we are able to keep the cost of hearing fine music played by leading musicians to a minimum.
Now that the concert season is underway, new members will be able to join the Society and enjoy the remaining 5 concerts in the 2018 season for $140. That's just $28  a concert to hear world class performers in a superb concert venue!
Non-members are welcome to attend individual concerts. Single ticket prices are very reasonable.