Sydney Mozart Society
Affiliated with the Mozarteum, Salzburg
Sydney Mozart Society brings you Mozart and much more from the 'Golden Age' of Chamber music.



Tinalley String Quartet
Friday, 30 October 2020 at 8pm
Adam Chalabi (Violin), Lerida Delbridge (Violin), Justin Williams (Viola) and Patrick Murphy (Cello)
Photo credit: C. Brewster
Tickets for this concert can be purchased in advance
In person from The Concourse Box Office, Chatswood or from Ticketek agencies.
By phoning the Ticketek Theatre & Arts Line 1300 795 012.
Book tickets online through Ticketek
Programme
HAYDN String quartet in C major, Op 76 no 3, Hob III:77, Emperor
BEETHOVEN String quartet no 13 in C minor, Op 18 no 4
INTERVAL
MENDELSSOHN String quartet no 4  in E minor, Op 44 no 2
About the Artists
Formed in 2003, the Tinalley String Quartet has established a reputation as one of Australia's most exciting chamber ensembles. Resident at the University of Queensland, the quartet presents a vibrant annual artistic program across Australia and abroad, including live performance, recordings, the commissioning of new works and innovative collaborations with distinguished artists.
Programme Notes
The Quartet's  concert begins with the radiance of Haydn's Emperor quartet, music filled with the expansive and generous spirit of a mature master. The mood changes with the dark beauty of an early Beethoven quartet, richly textured and dramatic.  The exhilarating technique of a late Mendelssohn quartet brings a joyful finale to the concert and to our 2020 concert season.
BEETHOVEN String quartet in C minor, op 18, no 4 
Allegro ma non tanto / Andante scherzoso quasi allegretto / Menuetto Allegretto / Allegro – Prestissimo
Although Beethoven had composed a number of significant chamber works after his arrival in Vienna in 1792, it was not until 1798 that he began composing his first string quartets in response to a commission from his patron, Prince Lobokowitz.  It is thought that Beethoven's high regard for the string quartets of Haydn and Mozart, made him reluctant to compose his own string quartets before he felt he could match their mastery of the form.
Beethoven completed the Prince's commission for six string quartets (including the quartet we are to hear tonight) in 1800.  The set was published the following year as opus 18. It contains much wonderful music and demonstrates Beethoven's technical and artistic command of the string quartet form.  
The string quartet in C minor is a particularly dramatic work.It begins with an anxious and agitated theme from the violin in a concerto-like display. The development of the theme continues with an apprehensive quality. There are moments of quiet re-assurance, but the music never settles completely.  The C minor key gives this movement a dramatic immediacy, intensified by jarring harmonies and halting rhythms.
The Andate scherzosa movement shifts the key to C major. The mood is lighthearted within a beautifully controlled sonata-like structure; the central section being a development of complex harmonies using themes Beethoven had introduced earlier. 
Drama returns in the Menuetto movement. The C minor key returns with emotional intensity in a dance of dark and restless energy. The urgency continues with a trio, dominated by the violin's constant quick triplets.
The final movement is a Rondo based on a Hungarian-style gypsy theme with contrasting themes at first peaceful then vigorous.  The tempo increases and the music whirls to an exultant finale, releasing the energy and tension that has built up through the work. 
                                                                                                                         C. B.
Programme notes for the other works will be available nearer to the concert date.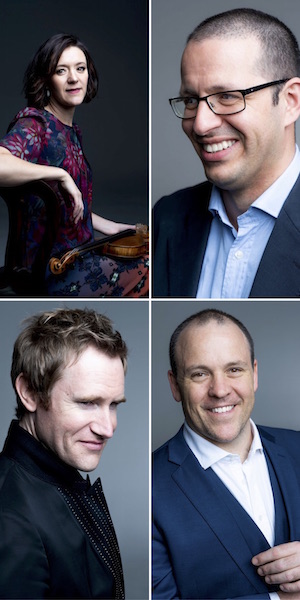 Our venue and how to access it
Our concerts are held in the Concourse Concert Hall, Victoria Avenue Chatswood. With its  superb acoustics, comfortable seating and many amenities, the Concourse Concert Hall is regarded as one of the best chamber music venues in Sydney.
Parking is available in the Concourse car park and in nearby shopping centre car parks. The venue is only a short walk from the Chatswood railway and bus transport interchange.
There are nearby restaurants and cafes, which give concert goers many options for dinner and socialising.
There is a licensed bar in the Concourse foyer where snacks, tea, coffee and drinks can be purchased before the concert from 7PM or during interval.
On concert nights, the Concourse foyer and terrace open at 7PM. Concert hall doors open at 7.30PM. Concerts begin at 8PM.
All tickets to Sydney Mozart Society concerts are general admission, seats are not numbered. The Concert Halll is spacious and good seating is assured.
Non-members are welcome
Single tickets for each of our 2020 season concerts are:
Adults, $50
Seniors/Pensioners, $47
Full-time students, $20
Children under 13, free admission
Tickets can  be purchased in advance:
In person from the Concourse Box Office or from Ticketek agencies.
By phoning the Ticketek Theatre & Arts Line 1300 795 012.
Online through the Ticketek website.
A Ticketek service delivery fee applies when tickets are booked by phone or online.