Sydney Mozart Society
Affiliated with the Mozarteum, Salzburg
Sydney Mozart Society brings you Mozart and much more from the 'Golden Age' of Chamber music.



Six select concerts in vibrant Chatswood
There are four fine concerts remaining in our 2022 season in Chatswood.  Membership includes tickets to all concerts - for the pro-rata offer use this form.  Single tickets can be purchased in advance.   The safety of our musicians and audience is of utmost importance and COVID19 restrictions and regulations are changing progressively so we encourage you to read more here.
Society News
Next Concert
Wednesday, 31 August 2022 at 8pm
Seraphim Trio
Anna Goldsworthy (piano) Helen Ayres (violin) and Tim Nankervis (cello) with Kristian Winther (guest violin) and Jacqui Cronin (guest viola).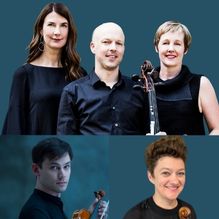 Save with an annual membership
As a volunteer-run enterprise, we are able to keep the cost of hearing fine music played by leading musicians to a minimum.
Enrol as a member for 2022 paying the reduced (pro-rata) rate and you will receive tickets entitling you to attend all remaining concerts in the season at no further charge.
Join now or find more information here.
You can still save:
Buy a prorata membership
Fees are calculated pro-rata to the number of remaining concerts when you join after the first concert of the season.