Sydney Mozart Society
Affiliated with the Mozarteum, Salzburg
Sydney Mozart Society brings you Mozart and much more from the 'Golden Age' of Chamber music.



Welcome to our venue

Our concerts are held in The Concourse Concert Hall, Victoria Avenue Chatswood. With its  superb acoustics, comfortable seating and modern amenities, The Concourse Concert Hall is regarded as one of the best chamber music venues in Australia.
A detailed description of The Concourse. its location and its facilities can be found on The Concourse website.
Parking is available in the Concourse car park, which offers parking for 400 vehicles and lift access to the venue. Entry details and parking rates are listed on the Parking Page of the Concourse website.
Parking is also available in nearby shopping centre car parks. The venue is only a short walk from the Chatswood railway and bus transport interchange.
The Concourse has facilities to assist concert goers in wheel chairs or with limited mobility. These are listed on the  Accessibility page of The Concourse website.
There are nearby restaurants and cafes, which give concert goers many options for dinner and socialising.
There is a licensed bar in The Concourse foyer where snacks, tea, coffee and drinks can be purchased before the concert from 7PM or during interval.
On concert nights, The Concourse foyer and terrace open at 7PM. Concert hall doors open at 7.30PM. Concerts begin at 8PM.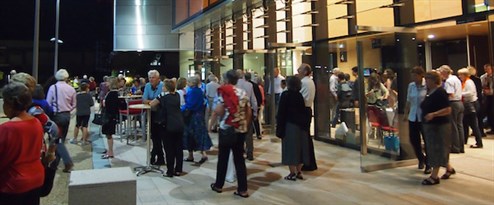 Your Concert Tickets
When you become a member of the Society, the Society will provide you with a packet of admission tickets, one for each concert in the season. Just present the appropriate ticket at the Concert Hall door for a wonderful evening of music. 
All tickets to Sydney Mozart Society concerts are general admission, seats are not numbered. The Concert Hall is spacious and good seating is assured.
Non-members are welcome to attend our concerts. Individual tickets for our concerts can be purchased in advance:
In person from The Concourse Box Office or from Ticketek agencies.
By phoning the Ticketek Theatre & Arts Line 1300 795 012.
Online through the Ticketek website.