Sydney Mozart Society
Affiliated with the Mozarteum, Salzburg
Sydney Mozart Society brings you Mozart and much more from the 'Golden Age' of Chamber music.



Daniel Herscovitch and Clemens Leske
Thursday, 8 April 2021 at 8pm
Daniel Herscovitch (piano) and Clemens Leske (piano).
Playing the Concourse's two concert Steinways, this duo present a feast of the greatest music for two pianos
Tickets for this concert can be purchased in advance
In person from The Concourse Box Office, Chatswood or from Ticketek agencies.
By phoning the Ticketek Theatre & Arts Line 1300 795 012.
Book tickets online through Ticketek
Programme
MOZART - Sonata in D major, K 448
BRITTEN - Mazurka Elegiaca, Op.23 no 2 
CHOPIN - Rondo in C major, Op.73
INTERVAL
MOZART - Sonata in C major, K 545 arr. Grieg for two pianos 
SAINT-SAENS - Polonaise in F minor, Op.77
BRAHMS - Variations on a theme of Haydn, Op.56b
About the Artists
These fine Australian pianists have enjoyed a two-piano collaboration for a decade.  Individually, they have appeared overseas and regularly at home with many of Australia's leading musicians and ensembles.
Programme Notes
Programme notes will be available here closer to the concert.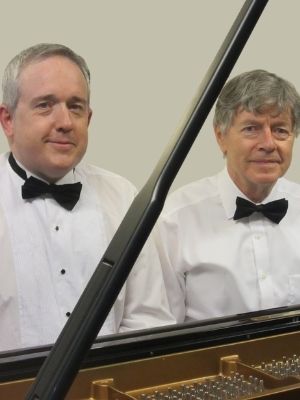 COVID-19 Safety
The safety of our musicians and audience is of utmost importance so please follow directions from the venue.  Our venue is a registered COVID Safe business and has introduced measures to ensure a safe environment for everyone. Read more here. These arrangements may change as appopriate so please look out for the updated information that will be provided prior to each concert.
Please arrive in plenty of time for a prompt start and allow time for QR code registration and other expected delays, as for example, only two people can be in the lifts.
Please stay at home if you are feeling unwell, displaying COVID-19 symptoms or are required to self-isolate.
Our venue and how to access it
Our concerts are held in the Concourse Concert Hall, Victoria Avenue, Chatswood. With its  superb acoustics, comfortable seating and many amenities, the Concourse Concert Hall is regarded as one of the best chamber music venues in Sydney.
Seats are pre-allocated and specific information will be provided in the weeks before each concert.
Parking is available in the Concourse car park and in nearby shopping centre car parks. The venue is only a short walk from the Chatswood railway and bus transport interchange.
There are nearby restaurants and cafes, which give concert goers many options for dinner and socialising.
There will be no food or beverages sold at the venue until COVID-19 restrictions allow.
On concert nights, the Concourse foyer and terrace open at 7PM. Concert hall doors open at 7.30PM. Concerts begin at 8PM.
All tickets to Sydney Mozart Society concerts are numbered and member tickets are pre-allocated to accord with COVID-19 legal requirements. Ticket holder identification will be held by The Concourse to comply with tracing requirements.  The Concert Hall is spacious and good seating is assured.
Non-members are welcome
Single tickets for each of our 2021 season concerts are:
Adults, $50
Seniors/Pensioners, $47
Full-time students, $20
Children under 13, free admission
Tickets can be purchased in advance:
In person from the Concourse Box Office or from Ticketek agencies.
By phoning the Ticketek Theatre & Arts Line 1300 795 012.
Online through the Ticketek website.
Prices include $8.25 transaction fee and a further delivery fee of $1.00 may apply when tickets are booked by phone or online.