Sydney Mozart Society
Affiliated with the Mozarteum, Salzburg
Sydney Mozart Society brings you Mozart and much more from the 'Golden Age' of Chamber music.



Goldner String Quartet
Thursday, 4 March 2021 at 8pm
Dene Olding (violin), Irina Morozova (viola), Julian Smiles (cello), Dimity Hall ( violin).
Photo credit:  Keith Saunders
"...As usual, the Goldners played with immense concentration and focus bringing the ... emotional canvass into stark relief, ensuring listeners were completely immersed from start to finish. " Rodney Clarke, The Advertiser, 2019
Programme
MOZART Adagio and Fugue in C minor for two violins, viola and bass, K 546
BEETHOVEN String Quartet in F major, Op.18 no 1
INTERVAL
BEETHOVEN  String Quartet no 15 in A minor, Op.132
About the Artists
Celebrating its 26th Anniversary season and retaining all four founding members, the Goldner String Quartet is an ensemble of international significance.  The members are well known to both Australian and international audiences through orchestral and solo performances, their many recordings and their concurrent membership of the Australia Ensemble@UNSW.
Programme Notes
The works the Quartet have chosen for this concert are three great examples of their kind.    They are a welcome stride back into the wonderful experience of a live chamber music concert. They also provide a window to genius learning its craft and finding its voice.  In his Fugue, Mozart masters the devices of the Baroque era in a nod to Handel and Bach while Beethoven's first string quartet shows the fruits of his time as a student of Haydn.  In Op.132 we hear Beethoven's mature voice as he exposes emotions in a more profound way than most wordsmiths.
MOZART - Adagio and Fugue in C minor, K 546
Adagio / Fuga - allegro
Born in Salzburg, Mozart followed in the footsteps of his musician father in the archbishop's court.  Salzburg often must have seemed stifling to a musician of Mozart's genius and in 1781 he settled in Vienna, the centre of Habsburg pomp and power. In Vienna on 26 June 1788 he noted this Adagio and Fugue into his own work catalogue as "A short adagio for two violins, viola and bass, for a fugue which I wrote some time ago for two pianos".
The Adagio presents the listener with contrasting brief outbursts alternating with ephemeral moments of tranquillity.  The following Fugue, while more steady in volume and tempo, continues the disquieting mood with an angular first theme moving between the parts in a four-voiced fugue in a masterly fashion.  The Fugue contrasts with Mozart's usual Galant style - he rarely wrote polyphonic works.
                                                                                                                           T. R.  
BEETHOVEN – String Quartet in F major, Op.18 no 1
Allegro con brio / Adagio affettuoso ed appassionato (D minor) / Scherzo - allegro molto / Allegro
Beethoven's quartets evolved from the style of Haydn and Mozart (he studied composition under Haydn). They exhibit variety and complexity with energy, drama and technical craftsmanship. This quartet was one of Beethoven's earliest (around 1800), written in his late twenties.
In the opening Allegro con brio the music begins with a brisk six-note figure.  This motif (small musical fragment) frequents the majority of the movement, weaving a fabric over its sonata form.  The recapitulation is followed by a coda which conclusively exhausts the momentum of this highly articulated musical excursion.
In profound contrast the Adagio affettuoso ed appassionato evocatively expresses the 'appassionato' of its title. Beethoven's philosophy has been expressed elsewhere as 'To play a wrong note is insignificant;  to play without passion is inexcusable'.
The movement commences with a beautiful elegiac melody from the first violin, accompanied by quiet pulses.  This develops into agitated wrenching moments, to be then followed by the quiet lyrical mood but again interspersed with further moments of tension and distress.  There is considerable historical evidence that Beethoven had the tomb scene from Shakespearean tragedy Romeo and Juliet in mind in which Juliet, in order to arrange a situation in which a marriage to Romeo can be performed, takes a drug which puts her into a death-like coma and she is laid in the family crypt.  In the resulting confusion all three principal characters ultimately perish. 
The Scherzo has a driving pulse with abrupt brisk accents.  Its trio accelerates this structure with rapid ascending and descending passages from the first violin interspersed with abrupt chords from the other instruments.
The final Allegro also features a motif (as well as a second recurring theme).  It is interspersed with a variety of additional musical ideas including featuring two passages in the style of a fugue.
                                                                                                                           T.R.
BEETHOVEN - String Quartet no 15 in A minor, Op.132
Assai sostenuto – allegro / Allegro ma non tanto / Molto adagio - Andante  / Alla marcia, assai vivace (A major) / Allegro appassionato 
This A minor quartet stems from what is considered Beethoven's late period during which he extended his innovations in musical form and expression.  Between 1813 to 1818 he had experienced major emotional upheavals, from financial troubles to the struggle to gain custody of his nephew.  However he emerged with unparalleled ability to imagine melodies, forms and harmonies.  Charles Rosen writes "No composer before Beethoven ever disregarded the capacities of both his performers and his audience with such ruthlessness".  The quartet was composed in 1825, just two years before Beethoven's death and is also known as the Heiliger Dankgesang quartet.
The assai sostenuto – allegro movement commences with a slow introduction which is based on a motif that recurs throughout Beethoven's late quartets.  The music then launches into modified sonata form – the first and second themes are cycled three times in the movement instead of the conventional two times.
The allegro ma non tanto is a minuet, commencing with a three note gesture repeated four times and then combined with its inverted variation.  It leads up to the motif heard throughout the movement.  In the trio an atmosphere akin to rustic music played on bagpipes or hurdy-gurdies is created by a continually sounding note (a 'pedal' note) on the first violin and on other instruments.
The Molto adagio – Andante is titled Heiliger Dankgesang eines Genesenen an die Gottheit, in der Lydischen Tonart - (A Convalescent's Holy Song of Thanksgiving to the Divinity in the Lydian Mode).  This section is in F Lydian mode, a scale without sharps or flats. For composers and musicians, this remarkable piece of music has proved irresistible, providing solace and giving strength even when the future seems lost.  The commencement is  reminiscent of the opening of the first movement.  The instruments overlap playing the motif, The structure is comprised of five repeating sequences, each sequence is an 8 note prelude paired with a slower 8 note hymnsong. A faster and happier section in D major labelled Andante Neue Kraft fühlend (with new strength) follows.  The movement returns to the five prelude and hymnsong pairs, this time with some rhythmic variations, then back to 'new strength' and with more energy. The movement culminates with a fugue based on the preludes and hymnsong. 
The alla marcia, assai vivace is a bold brief (2-minute) march in A major and leads directly into the finale through a passionately urgent recitative-like passage reminiscent of Hungarian music from the first violin.
The surging finale Allegro appassionato is in sonata rondo form (A B A C A B A). The key of A minor is restored in a brisk driving restlessness.  In the coda this is switched to A major and the gravity in the headlong rush changes to sunny sparkle.
                                                                                                                          T. R.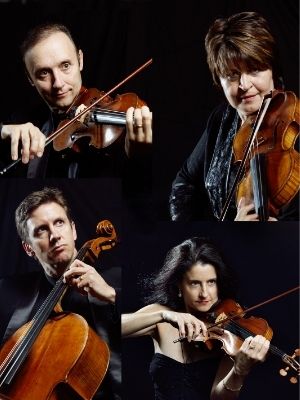 COVID-19 Safety
The safety of our musicians and audience is of utmost importance so please follow directions from the venue.  Our venue is a registered COVID Safe business and has introduced measures to ensure a safe environment for everyone. Read more here. These arrangements may change as appopriate so please look out for the updated information that will be provided prior to each concert.
Please arrive in plenty of time for a prompt start and allow time for QR code registration and other expected delays, as for example, only two people can be in the lifts.
Please stay at home if you are feeling unwell, displaying COVID-19 symptoms or are required to self-isolate.
Our venue and how to access it
Our concerts are held in the Concourse Concert Hall, Victoria Avenue, Chatswood. With its  superb acoustics, comfortable seating and many amenities, the Concourse Concert Hall is regarded as one of the best chamber music venues in Sydney.
Seats are pre-allocated and specific information will be provided in the weeks before each concert.
Parking is available in the Concourse car park and in nearby shopping centre car parks. The venue is only a short walk from the Chatswood railway and bus transport interchange.
There are nearby restaurants and cafes, which give concert goers many options for dinner and socialising.
There will be no food or beverages sold at the venue until COVID-19 restrictions allow.
On concert nights, the Concourse foyer and terrace open at 7PM. Concert hall doors open at 7.30PM. Concerts begin at 8PM.
All tickets to Sydney Mozart Society concerts are numbered and member tickets are pre-allocated to accord with COVID-19 legal requirements. Ticket holder identification will be held by The Concourse to comply with tracing requirements.  The Concert Hall is spacious and good seating is assured.
Non-members are welcome
Single tickets for each of our 2021 season concerts are:
Adults, $50
Seniors/Pensioners, $47
Full-time students, $20
Children under 13, free admission
Tickets can be purchased in advance:
Online through Ticketek.
By phoning The Concourse (02) 8075 8100
In person from The Concourse Box Office, Chatswood or from Ticketek agencies - but please note that due to the ongoing impact of COVID-19, both may continue to be operating to reduced hours or be closed until further notice.
Prices include $8.25 transaction fee and a further delivery fee of $1.00 may apply when tickets are booked by phone or online.