Sydney Mozart Society
Affiliated with the Mozarteum, Salzburg
Sydney Mozart Society brings you Mozart and much more from the 'Golden Age' of Chamber music.



Orava Quartet
Thursday, 14 September 2023 at 8pm
Karol Kowalik (cello), Daniel Kowalik (violin), David Dalseno (violin), Thomas Chawner (viola)
Photo credit:  Keith Saunders
"....it was exceptional musicality, supported by abundant energy in a demanding program, and delivered with intensity, precision and incredible teamwork.
These four young men have taken the string quartet configuration, given it better than a good shake, and thrown the boundaries away. Their performance was nothing short of brilliant, delivering an edge-of-the-seat experience for the audience. It was, without doubt, a highlight of the festival."
- Limelight magazine, June 2022 (live review, Sunshine Coast Chamber Music Festival)
BUY your ticket to this exciting young quartet's first performance for the Sydney Mozart Society.
Programme
DE VICTORIA - O Magnum Mysterium
BYRD - Ave Verum Corpus
MOZART - String quartet no. 22 in B-flat major K 589
BORODIN - String quartet no. 2 in D major
About the Artists
The Orava Quartet has been hailed by Limelight magazine as "the most exciting young quartet on the block" and predicted by The Australian to become "one of Australia's proudest cultural exports." Known for their genuinely thrilling performances, the Quartet – brothers Daniel and Karol Kowalik (violin and cello), David Dalseno (violin) and Thomas Chawner (violist) - bring their unique sound and breathtaking intensity to both the classics and lesser-known jewels of the string quartet canon.
Programme Notes
Programme notes will be available at the concert.
DE VICTORIA - O Magnum Mysterium
BYRD - Ave Verum Corpus
MOZART - String quartet no. 22 in B-flat major K 589
BORODIN - String quartet no. 2 in D major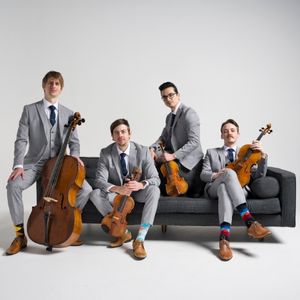 COVID-19 Safety
The safety of our musicians and audience is of utmost importance so please follow directions from our venue, which continues to operate in accordance with NSW COVID19 rules. Read more here. These arrangements may change as appopriate so please look out for updated information.
Please stay at home if you are feeling unwell.
Our venue and how to access it
Our concerts are held in The Concourse Concert Hall, Victoria Avenue, Chatswood. With its  superb acoustics, comfortable seating and many amenities, the Concourse Concert Hall is regarded as one of the best chamber music venues in Sydney.
Seats are not pre-allocated nor numbered - all tickets to Sydney Mozart Society concerts are general admission - so make sure you arrive early to secure your favourite seat.
Parking is available in the Concourse car park and in nearby shopping centre car parks. The venue is only a short walk from the Chatswood railway and bus transport interchange.
There are nearby restaurants and cafes, which give concert goers many options for dinner and socialising.
On concert nights, the Concourse foyer and terrace open at 7PM. Concert hall doors open at 7.30PM. Concerts begin at 8PM.
Non-members are welcome
Single tickets for each of our 2023 season concerts cost:
Adults, $58
Seniors/Pensioners, $52
Full-time students and children under 13, $26