Sydney Mozart Society
Affiliated with the Mozarteum, Salzburg
Sydney Mozart Society brings you Mozart and much more from the 'Golden Age' of Chamber music.



Arthur Edward Smith, an Inspiring Life
When you come to hear the Goldner String Quartet perform at our next concert on 5 April 2019 take a moment to admire Irina Morozova's viola. It has a rich, warm sound and a beautiful appearance with finely proportioned curves and glowing colour.  Irina's viola was made in 1947 for Richard Goldner. Its maker was Arthur Edward Smith, one of Australia's most important instrument makers. His life, dedicated to music and to craftsmanship of the highest order, is inspiring.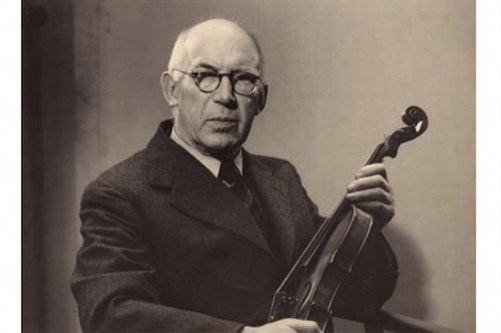 Photo: Australian National Library
Born in England in 1880, A. E. Smith trained as an engineer then switched career to become a luthier or stringed instrument maker. Although self-taught as an instrument maker, his engineering background would have helped him to create instruments with meticulous precision and with an appreciation of acoustic science.  He migrated to Australia in 1909 and worked in various instrument businesses until 1919 when he established A.E. Smith and Co in Sydney for the repair and manufacture of stringed instruments. It was a courageous move when music circles in Australia were still small.   
Smith's workshop in Hunter Street quickly established a reputation for quality and became an important part of Sydney music life.  He developed supportive relationships with the Conservatorium, local orchestras and musicians. He trained many talented instrument makers. One of the reasons foreign musicians were confident about undertaking long tours to Australia was the knowledge that Smith would be there to look after their precious instruments.  In turn, he carefully studied the fine instruments entrusted to his care, and learned much from their owners about the techniques used to play them.
During the Second World War when strings and metal fittings could no longer be imported from Europe, the resourceful Smith created machines to manufacture them himself! 
While his business concentrated on instrument repair, Smith built a small number of violins each year and the occasional viola or cello in a sunny workshop in the garden of his North Shore home. His aim was nothing less than to recreate the proportions and structure that he had seen in Guarneri and Stradivari instruments.  He favoured fine well-matured European timbers often using maple for the ribs, scrolls and backs of instruments, and spruce for the bellies.
A distinctive feature of his instruments was the varnish - rich, lustrous and flexible. He's reported to have said that 99% of violins are ruined when the varnish is applied. He spent a lifetime researching and perfecting different recipes. The Royal Botanic Gardens in Sydney presented Smith with a "Dragon's Blood" tree for his garden, so that he would have his own supply of its red sap, an important ingredient in his varnishes. Modern research supports the view that Smith was right; varnish is critical for a beautiful sound as well as a beautiful appearance. 
In 1949 Smith was awarded diplomas of honour for both violin and viola at the International Exhibition of Violin Makers at The Hague. Further international recognition came in 1950 when he was elected to the International Society of Violin and Bow Makers. 
In the late 1950's he suffered several strokes resulting in partial paralysis. With commitment and passion he continued to build instruments for several years. These 'post stroke' instruments have a less refined appearance than his earlier instruments, but are well-regarded for their warm, even tones. Their distinctive markings have a special beauty showing the hand of a craftsman who would not stop working at what he loved.
In 1971 Smith was appointed a Member of the Order of the British Empire for his services to music. He died in 1978.
It is estimated that over his life Smith created 250 instruments. They are highly valued for their full tone and dynamic range as well as their physical beauty. Some of the world's great musicians including Isaac Stern, Yehudi Menuhin and David Oistrakh acquired or played Smith instruments.
Australian musicians continue to admire and play Smith instruments. Irina Morozova describes her 1947 Smith viola as "a terrific example of his Brecian models", crafted using designs and techniques perfected by the early Italian viola and cello masters of Brescia.
Helen Ayres of the Seraphim Trio plays a 1940 Smith violin.
Emily Sun, 2018 ABC Performer of the Year, plays a 1946 Smith violin.
Justin Julian, a 2018 Sydney Symphony Fellow plays a 1951 Smith viola.
You can read more about Arthur Edward Smith and his contribution to Australian music  in "Smith, Arthur Edward (1880–1978)" by Ann G. Smith, published in the Australian Dictionary of Biography, Volume 11, (MUP), 1988
                                                                                              Charmain Boyakovsky
Posted on Tuesday, 12 March 2019 at 10am