Sydney Mozart Society
Affiliated with the Mozarteum, Salzburg
Sydney Mozart Society brings you Mozart and much more from the 'Golden Age' of Chamber music.



Flinders Quartet, Shaping a Vibrant Music Future
We're looking forward to the Flinders Quartet concert for the Society on 28 February 2019. The Quartet members are not just  masterful musicians, they are also  committed to furthering the Australian tradition of chamber music through regularly commissioning and premiering works by Australia composers.
2020 will be the Quartet's 20th birthday year and they'll be celebrating their strong relationship with Australian composers through two important initiatives that shine a spotlight on women composers and on emerging composers.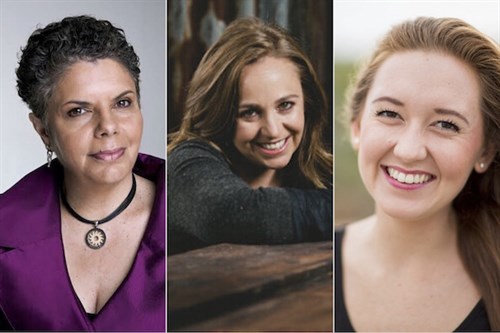 Deborah Cheetham AO (photo: Kristina Kingston), Katy Abbott (photo: Nicholas Purcell),
Ella Macens (photo: Darwin Gomez)
Hear Her Voice is a project inspired by the fact that in Australia, only 9% of composers are women. In 2020 Flinders Quartet will champion female composers, helping them to have their works heard and appreciated.    
Hear Her Voice will develop, perform and record new works by three composers - esteemed First Nations composer, Deborah Cheetham AO, Katy Abbott, and emerging composer Ella Macens. 
Deborah Cheetham has written a new work "Bungaree" for the Flinders Quartet, which they will premiere in  June.  The work is based on the life of Bungaree an Indigenous Australian who  accompanied Matthew Flinders (the Quartet's namesake) on his famous circumnavigation of Australia. In 2020 she will compose a song cycle inspired by the life and work of Margaret Sutherland one of Australia's great and innovative classical composers. She will also oversee the Quartet's 2020 Composer Development Program. 
In collaboration with composer Katy Abbott and Canberra International Music Festival, Flinders Quartet will premiere "Hidden Thoughts: Return to Sender", a unique work that draws on theatre, spoken word, song and visual elements. 
Ella Macens, a participant in the Quartet's 2017 Composer Development Program will be the 2020 Flinders Quartet Emerging Composer in Residence. Her work will be performed in the 2020 Composer Development Program concerts and within the Quartet's 2021 subscription season. 
Hear Her Voice is a project that will add fresh, vibrant works to the Australian chamber music repertoire from composers who are passionate about Australian life, history and culture. For more details about the project and how you can support it, visit http://www.flindersquartet.com/hear-her-voice 
COMPOSER DEVELOPMENT PROGRAM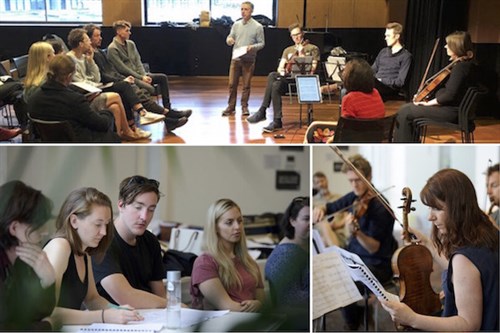 Composer Development Workshop (photo: courtesy of Flinders Quartet)
Each year since 2016 the Quartet has invited Australian composers to submit string quartet works for evaluation and performance.  Successful participants attend workshops with the Quartet and mentors, they  explore works through performance, intensive discussions, guidance and feedback. Open workshops give audience members and other composers insights into the process of crafting chamber works and the creative interaction between composers and musicians. The program culminates in a studio recording and live performances. To date, the program has premiered 25 new works. 
An important long-term objective of the program is to build relationships between composers and the Quartet, which can then be developed through further performances and commissions. 
In 2020 applications for the program open on 1 April 2020  and the deadline for submissions is 29 May 2020. Composition mentor for the program will be Deborah Cheetham AO, and the Emerging Composer-in-residence will be Ella Macens. This year live concert performances will take place in Sydney as well as Melbourne. For more details and program dates keep an eye on the Quartet's website at http://www.flindersquartet.com/composer 
Mozart and Beethoven were once emerging composers; their friendships and collaborations with the musicians of their day inspired them and helped them to appreciate instrument capabilities and performance techniques.  In contemporary Australia, Flinders Quartet continues this tradition. 
                                                                                                                     Charmain Boyakovsky
Posted on Tuesday, 14 January 2020 at 2pm