Sydney Mozart Society
Affiliated with the Mozarteum, Salzburg
Sydney Mozart Society brings you Mozart and much more from the 'Golden Age' of Chamber music.



Meet Peter Jenkin
Peter Jenkin, Principal Clarinet with the Australian Opera and Ballet Orchestra, enjoys a distinguished career as an orchestral performer, soloist and ensemble member. His music passions extend from the Baroque, through grand opera to the contemporary. His musical technique is formidable; he is equally comfortable with dazzling arpeggios and wistful melodies. He even finds time to grow his own vegetables!
Charmain Boyakovsky of Sydney Mozart Society talked with Peter recently about his career, the music he loves and the works he will be performing for the Society's "Mozart and Friends" concert on Friday 31 July 2015.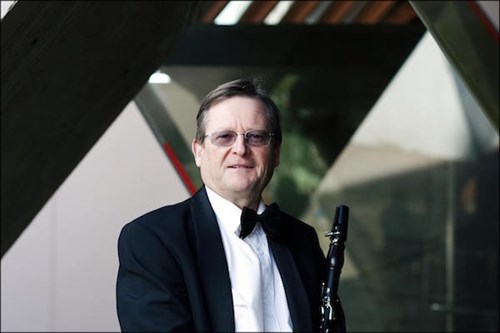 Peter began his professional career at nineteen when he became Principal Clarinet with the State Opera of South Australia. He went on to perform with the London Sinfonietta, the Nash Ensemble, the Scottish Chamber Orchestra, the Chamber Orchestra of Europe, and L'Orchestre de L'Opéra de L'yon. He has also been a guest Principal Clarinet with the Sydney Symphony Orchestra on numerous occasions. Since 2002 Peter has held the position of Principal Clarinet with Opera Australia. He is on the staff of the Sydney Conservatorium of Music. He is an active solo performer and chamber ensemble performer. He has recorded several CDs.
(Sydney Mozart Society) How did your passion for the clarinet ignite? Who were your mentors and teachers?
(Peter Jenkin) Oddly I was told I was too young to learn the oboe so what about the clarinet.  A lucky escape I think now, as I would never have coped with all that reed work. I was then introduced to recordings of Gervase de Peyer and Benny Goodman and I got the bug.
I started music when I was about six learning the recorder from a local teacher. As it seemed I had a flair for things windy my recorder teacher suggested I learn an orchestra wind instrument.  As I mentioned the oboe was ruled out and the clarinet prevailed. It looked pretty similar to me -black with shiny keys!
My first Clarinet teacher was Alan Bray the then newly appointed Principal Clarinet of the Adelaide Symphony Orchestra. This was a stroke of luck because it is rare as a beginner to start with a professional player at that level. I went on to study at the Elder Conservatorium Adelaide with David Shephard and then Antony Pay in London.  They all had a significant impact on my development as a musician.
I ended up working with Antony Pay regularly in the London Sinfonietta and it was a seven-year stint in London.
(SMS) What have been the highlights of your performing career?
 (PJ) Many really. The Neilson Concerto with the Britten Pears Orchestra at Aldeburgh was a highlight. The Copland Concerto recently with the Mid Coast Symphony in Maine USA was also most enjoyable.  With the Opera Australia I think opening night of Die Meistersinger with Simone Young on the podium was quite something to remember. I think internationally the Rake's Progress tour to Milan with the London Sinfonietta was amazing. David Hockney had painted the sets for that one.
(SMS) There are many extraordinary people in the world of music. Can you tell us about some of your more memorable encounters?
(PJ) When I was with the London Sinfonietta, we did a lot of work with a very young Simon Rattle as Artistic Director. They were amazing concerts. It was easy to see he would go on to have a great career.
Things are not always that obvious. When the Sinfonietta toured with the Rake's Progress, I was backstage, watching a guy in a baseball cap painting the sets. "Not bad" I said.  He turned out to be David Hockney himself!
And people don't have to be famous to be extraordinary. I recently worked with the Community Symphony Orchestra of Maine in the US. It is based in Lewiston, a big centre for ship design and construction. A number of highly qualified technical specialists, like computer programmers and engineers, perform in the orchestra. They are a delightful bunch of really interesting people. They perform with the same meticulous accuracy and commitment that they bring to their professional work, so the orchestra is pretty good.  I remember a double bass player whose job was designing weapons guidance systems for warships – double bass and weapons guidance, that's quite a skill set!
(SMS) What is the music that you enjoy performing?
(PJ)  I always love whatever I'm performing for the opera – Mozart, Wagner, Verdi are favourites. The world of opera is different from the symphonic world in its dramatic effects. Some of the best clarinet solos are in the opera repertoire. Composers tend use the clarinet for setting a scene or creating an atmosphere; these solos can be quite fun to perform. There's an odd thing that amuses me, composers like to use the clarinet for scenes when a letter is being written; La Traviata, Tosca and Yevgeny Onegin for example all have letter scenes, announced by a clarinet!
Being in an orchestra is great. It's a team, everyone makes a contribution and the team achieves big things. But what orchestral players miss out on is the creative process. So it's very satisfying to work with composers on new pieces, being there from the start, contributing and developing ideas. It's a stimulating experience for me to collaborate with composers and perform new works, especially when Australian composers like Richard Vella, Elena Kats-Chernin, Michael Smetanin, Ross Edwards and Nigel Butterley are involved.
It's also satisfying to work as a soloist or in small ensembles, it's nice to be an individual working with your colleagues, expressing your own ideas and interpretations, rather than always following an orchestral direction. 
(SMS) Who are the composers – from classical to contemporary - who inspire you? What are the special qualities of their music?
(PJ) JS Bach is always there for me and I always love the genius of Mozart.  Nothing is routine with these composers.   Contemporary is harder but I like Steve Reich, Eliot Carter, John Adams.
In the opera world, I enjoy Wagner, he writes nicely for the clarinet. Handel is always great to listen to. It's always a treat to play Mozart. He sometimes creates the most surprising harmonies in his operas; they work superbly in a theatrical context, though they would be jarring in a symphony. His contrapuntal writing is amazing.
(SMS) In your concert for us in July you will be performing three great chamber works featuring the clarinet: what is it that you find interesting about them, what should our audience be listening for? First the Schubert trio, D 965 (Shepherd on the Rock).
(PJ) I like the use of the instrument in the opening section. Schubert exploits the range of the instrument.  The clarinet provides a reflective comment on the vocal line in the first half of the piece.  In the second half this changes to more of a playful interplay between the two performers.
Schubert wrote the trio for his friend, operatic soprano Pauline Anna Milder-Hauptmann, who wanted a showpiece for her voice and dramatic flair. Schubert certainly succeeded; the trio expresses a wide range of feelings beautifully.
(SMS) What do you find interesting about the Beethoven Clarinet Trio, Op. 11, Gassenhauer?
(PJ) This work exploits the character of the clarinet very well.  Wind instruments were popular and had quite a novelty value in this period and the clarinet as the newest member of the wind family even more so.  Beethoven wrote quite a number of chamber works that included winds at this time. The septet of 1799 (string quartet plus clarinet, bassoon and horn) was arguably Beethoven's most successful work in his lifetime.
(SMS) And the Mozart, Trio for Clarinet, Viola and Piano K 498 Kegelstatt?
(PJ) It is likely that this work by Mozart is the first for this combination of instruments.  Mozart was the first major composer to highlight the possibilities of the clarinet.  The instrument enjoyed a considerable dominance over the other winds at the time in terms of dynamic range, and in terms of pitch range. The viola is a fabulous complement to the clarinet as both instruments share a similar vocal range and the dark timbre of the viola blends beautifully with the mellowness of the clarinet.
(SMS) What are your music plans and projects for the future? 
(PJ) Thinking of a project involving Bach. Bach's solo works suit the flexibilities of the clarinet really well, though technically they pose considerable challenges but really worth the effort of course. The clarinet's dynamic range can bring out harmony notes very clearly. Different harmonic lines can often be produced more effectively on the clarinet than on the original instruments for which Bach wrote.
I love my vegie patch and that's a project for a lifetime!!
Posted on Friday, 17 July 2015 at 1pm