Sydney Mozart Society
Affiliated with the Mozarteum, Salzburg
Sydney Mozart Society brings you Mozart and much more from the 'Golden Age' of Chamber music.



Flinders Quartet Emerging Composers Project
The best musicians are more than interpreters of composer's works; they inspire, they teach, they commission, they energise composers. It's musicians' generosity of spirit as much as their performance skill that helps to keep music alive and responsive to the world.
We're looking forward to the Flinders Quartet concert for the Society on 2 March 2018. We know the Quartet members as masterful musicians and fine interpreters of classical works. They are also strongly committed to furthering the Australian tradition of chamber music through regularly commissioning and premiering works by Australia composers.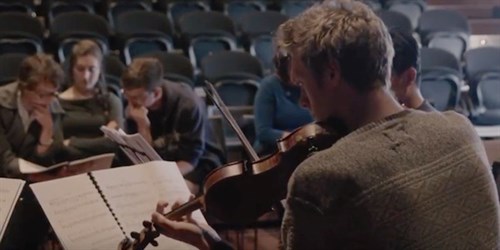 Photo: Justin Batchelor, Batchedit                                                                                    
In 2016, the quartet members  initiated the Flinders Quartet Emerging Composers Project  as a very practical way of encouraging and helping the next generation of composers to  develop their compositional skills and personal voice.
 
Emerging composers were invited to submit a short work for string quartet. The most promising were selected to be workshopped by the members of the Quartet and a composition mentor.  The music was lifted off the page!
Workshops were held in Melbourne over several days and involved exploring each work through performance, intensive discussions, guidance and feedback. The workshops were open to the public, which gave both audience members and other composers insights into the process of crafting chamber works and the creative interaction between composers and musicians.
 
The workshops were followed by a public performance that was live-streamed across the Internet and professionally recorded.  
 
For audience members the workshops and final performance had the excitement of music that was fresh and original. For composers, the experience of working with top musicians was invaluable; they commented that "the music came alive" as the Quartet members worked with them to make their music sound as good as it could be and encouraged them to understand performance issues and approaches.
 
The workshops were repeated in 2017, again with great success. Creative Victoria and The Australia Council have supported the project. Public donations have helped to cover workshop and recording expenses.
 
The Flinders Quartet Emerging Composers Project is an important contribution to Australian chamber music. The generosity, energy and passion that the Quartet members have brought to the project should be recognised and supported. Keep an eye on the Flinders Quartet website www.flindersquartet.com for announcements later this year about their 2018 Emerging Composers Workshops.
                                                                                                         Charmain Boyakovsky
Posted on Tuesday, 30 January 2018 at 3pm