Sydney Mozart Society
Affiliated with the Mozarteum, Salzburg
Sydney Mozart Society brings you Mozart and much more from the 'Golden Age' of Chamber music.



Meet Francesco Celata
Francesco Celata is a founding member and Artistic Director of the Sydney Soloists chamber music ensemble, which will be performing for the Society at 8.00pm, Friday 30 August 2013 in the Performing Arts Centre, Pymble Ladies College.
Charmain Boyakovsky from Sydney Mozart Society spoke with Francesco recently about his wide-ranging career and about the music we can look forward to at our August concert. In this interview we meet the man behind the performances – a charming, engaging man with a passion for music and a passion for teaching the next generation of performers.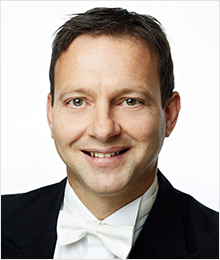 Francesco joined the Sydney Symphony Orchestra in 1993 as Associate Principal Clarinet and has appeared as soloist on a number of occasions. He has also appeared as soloist with the Tasmanian Symphony Orchestra and the Auckland Philharmonia. Between 2003 and 2009 he appeared with the London Symphony Orchestra as guest Principal Clarinet, performing on international tours and recordings. Francesco is a fine performer of chamber music and is a member of the New Sydney Wind Quintet as well as the Sydney Soloists. He is a Lecturer in Clarinet at the Sydney Conservatorium and recently joined the Conservatorium of Music in Hobart as Lecturer in Orchestral and Chamber Music.
(Sydney Mozart Society) How did your love affair with the clarinet begin? When did you know that music and the clarinet would be your career? Who were your mentors and teachers?
(Francesco Celata) When I was very young, I wanted to be a pianist. My brother was learning clarinet at the time. When I expressed my interest in music, my father gave me my brother's old clarinet after he had bought my brother a new one. I agreed to learn the clarinet thinking it might be a path to learning piano. Then I fell in love with the instrument and by the age of twelve I decided that this would be my career. My first three teachers in Melbourne were elderly Italian gentlemen who taught me a traditional Italian bel canto lyrical style of playing. One of my teachers actually played in the Elizabethan Orchestra of Melbourne, so that is a nice link I have to a past age of music in Australia.
I completed my undergraduate degree at the Victorian College of the Arts and followed that with a summer school in Siena. I was then fortunate to study in Amsterdam with Piet Honingh, Principal Clarinet of the Concertgebouw Orchestra. It was wonderful to hear the Concertgebouw perform. I still love that orchestra.
(SMS) What have been the highlights of you performing career?
(FC) My first job was certainly a highlight. I was just 23 when I became Principal Clarinet with the Queensland Philharmonic Orchestra. Moving to Sydney to join and tour with the Sydney Symphony Orchestra was another highlight. 
It was a privilege to perform overseas as guest Principal Clarinet with the London Symphony. Among other recordings with the LSO, I performed on a recording of Shostakovich's 5th Symphony conducted by Mtsislav Rostropovich and performed on a live DVD recording of Ravel's Bolero conducted by Valery Gergiev. Working with those great conductors was a thrill.
Being able to perform in the Sydney Symphony Orchestra with another great conductor, Vladimir Ashkenazy, continues to be a big thrill.
Moving into a teaching career at the Conservatorium has been another highlight; it is immensely rewarding to mentor and support the next generation of musicians. 
(SMS)  Tell us more about the rewards of teaching. You already have a demanding performance career. Why have you taken on a heavy teaching workload as well? 
(FC) I love teaching; it is a big part of my life, as important as performing. I couldn't not teach! All musicians have a responsibility to pass on knowledge; it is an important way of being engaged with the musical community. There is enormous satisfaction in seeing students grow and improve and go on to a musical career.
Teaching has also helped me to improve my own playing. When you teach you have to justify what you do, which leads you to a deeper understanding of exactly what it is you do and why you do it. You have to learn about yourself, who you are as a musician. I also love the problem solving aspect of teaching. When a student comes to me with a problem, we work through it together and develop musical ideas. Even as the teacher, I'm always learning. 
(SMS) You are the Artistic Director of the Australian International Symphony Orchestral Institute, Could you tell us about the Institute and your objectives for it?
The Institute is basically an annual orchestral training course held by the Tasmanian Conservatorium. We audition students nationally. The selected musicians then spend two weeks working in an environment that simulates an established professional orchestra. This year we are working with two inspiring conductors; Marko Letonja- the wonderful conductor of the Tasmanian Symphony Orchestra, and David Danzmayr an exciting young conductor with an international reputation. 
We give the orchestra a demanding repertoire to work on, with works such as the Bruckner 4th symphony and Ravel's Daphnis and Chloe. Next year I'll be working on a more classical repertoire with Beethoven, Mozart etc. It is an intensive orchestral course; the students rehearse every day with conductors and tutors. As well as being Artistic Director, I'm at rehearsals as clarinet tutor. We arrange master classes with members of the Tasmanian Symphony and the Sydney Symphony.  All that effort culminates in a concert at the end of each week during the course. 
By immersing young performers in orchestral performance for two weeks, we hope to inspire them and give them a sense of what it is like to be part of a professional orchestra and to experience all the demands and rewards of orchestra life. 
(SMS) Mozart Society audiences have enjoyed your performances with the Sydney Soloists. What do you enjoy about performing chamber music? What are the ingredients that make the Sydney Soloists such a special chamber ensemble? 
(FC) I play chamber music quite a lot. The beauty of chamber music is that you usually play with people you like! It's a fantastic way of developing musical ideas. It is a much smaller group so your artistic input is much greater proportionally, compared with an orchestra. You have to be open to working through new ideas about approaching or interpreting music. There are always different ways of thinking about or performing classical pieces, even though they seem so familiar. Quite apart from the sheer beauty of the pieces we play, there is great joy in being able to exchange musical ideas and develop artistically. 
The core of the Sydney Soloists are orchestral players who know each other very well; we work together every week, Often we are joined by guest performers, whom we know well. So when we come together in a chamber group there is a natural rapport, a shared musical understanding and similar style. That familiarity is essential; it gives us a firm base, so that we can develop our ideas for the pieces we perform.  It is very satisfying to work as a group, all contributing ideas and working towards musical consensus and a beautiful performance.
(SMS) In the Sydney Soloists concert you will be performing the Beethoven Quintet in E flat for piano and wind, op 16. What do you enjoy about this work? What should our audience be listening for? 
(FC) Beethoven is probably the only composer whose music I universally like. I enjoy it all. The quintet is a very mature work; its beauty is in how well Beethoven uses the winds and the subtlety with which he blends them. Each melody is just perfect for the instrument that performs it. There is extraordinary writing in the blend of sounds and the way they complement the piano. Beethoven modelled this quintet on a Mozart Quintet and it is very much the equal of that piece. 
(SMS) You will be in the audience listening to the other works in this concert, the  Mozart Quintet in E flat for horn and strings, K 407 and the Dvořák Quintet in A for piano and strings, op 81. What will you be listening for?
(FC) In the Mozart quintet, I'll be enjoying Robert Johnson's horn playing. He has such musicality and a very lyrical style of playing. I'll be listening to the beautiful way he shapes his phrases. There is a lovely singing quality to his playing. I know that Robert thinks deeply about his music, but his performances are always very natural. 
I'm looking forward to hearing the Dvořák Quintet. Dvořák is a hopeless romantic, always very emotional. I can't help but be moved by his music. Bernadette Harvey is a wonderfully expressive pianist. I'll be listening for the way she explores the nuances of emotion and the radiance in this piece. 
(SMS) What projects and performances are coming up for you that might interest Sydney Mozart Society members and friends? 
(FC)  Just a few days after our concert for you, Sydney Soloists will be presenting a concert of 'Music for Spring' with pianist Grace Kim on Sunday afternoon, 1 September in the historic Rivendell Estate at Concord. It is part of the Rivendell Recital Series.  Details are available at https://www.facebook.com/RivendellRecitalSeries. The programme includes the Beethoven 'Spring' sonata and a chamber music arrangement of Strauss' Till Eulenspiegel. It's a light, bright programme that should appeal to your members. 
Posted on Monday, 12 August 2013 at 9pm