Sydney Mozart Society
Affiliated with the Mozarteum, Salzburg
Sydney Mozart Society brings you Mozart and much more from the 'Golden Age' of Chamber music.



Thank you Frank Celata and Friends
A big "Thank You" to Frank Celata and Friends for an extra-special concert on March 31. The rapport of highly skilled friends added a unique energy to an exceptional audience experience.
Don't take my word for it - see Tony Burke's review for ClassikON.
Our favourite among his comments: "Long may the Sydney Mozart Society continue with such programmes - with enticing music played by brilliant artists."
Needless to say we hope to do just that.
Frank Celata and Friends:
Top: L-R Ola Rudner (violin 1); Frank Celata (clarinet); Tobias Breider (viola)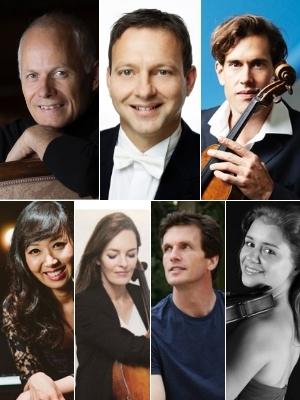 L
This row L-R:  Vivian Choi Milton (plano), Catherine Hewgill (cello), Kees Boersma (double bass) and Anna Skálová (violin 2)
Posted on Tuesday, 19 April 2022 at 4pm