Sydney Mozart Society
Affiliated with the Mozarteum, Salzburg
Sydney Mozart Society brings you Mozart and much more from the 'Golden Age' of Chamber music.



Goldner String Quartet, What the Audience Said
Thank you to the Goldner String Quartet for a dazzling performance last Friday night, it was a wonderful opening to our 2015 concert season; our audience experienced music performed with technical mastery, emotional insight and great intelligence. 
The Quartet's performance of Haydn's  string quartet in G, op 76, no 1, Hob III: 75 was beautiful with vivacious melodies flying above rich precise counterpoint. Their Bruch string quartet no 1 in C minor, op 9 was luscious and romantic. Their Mendelssohn string quartet no 2 in A minor, op 13 was powerful, profound and moving.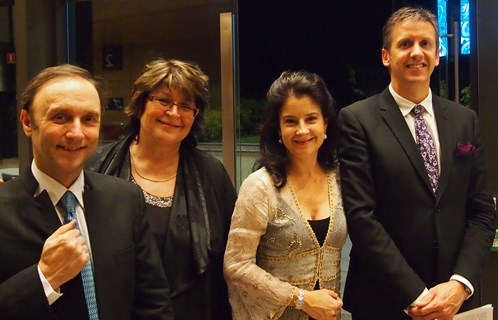 Dene Olding (violin), Irina Morozova (viola), Dimity Hall (violin), Julian Smiles ('cello)
We spoke to some of our audience members about the concert. This is what they said. 
'Brilliant concert, world class.' 
'Excellent, beautiful sound, great choice of programme.' 
'The music was of course wonderful. A nice experience for me tonight, was sitting near a group of students who whooped and stamped their feet when applauding.  Good to see young people excited about music. ' 
'Loved the Haydn.' 
'Julian [Smiles] was fantastic – a class act! I'm a huge fan.' 
'I enjoyed the Bruch immensely. I didn't think I would, but the performance was beautiful. I'm hardly ever disappointed by Mozart Society concerts. I've been coming for years and they're always lovely.' 
'Just delightful.' 
'Fabulous  string quartet. I liked the Mendelssohn work. I appreciated the programme notes and the way they explained the influence of Beethoven on the young Mendelssohn. I didn't know that before, so it made the work all the more interesting for me.' 
'It was wonderful.' 
'There were so many amazing moments in this concert when my brain was almost overwhelmed – that's the only way I can describe it.  
Visit the Classikon website to read Angus McPherson's review of the concert:  The Goldner String Quartet play with easy grace and flawless precision.
Audience members also enjoyed the ambience and facilities of the Concourse at Chatswood. It was certainly an inconvenience when we were forced by circumstances beyond our control to move the concert from our usual PLC venue to the Concourse Theatre , but it worked out well. The Theatre was comfortable, the staff were friendly and the terrace was a delight on a warm early-autumn evening.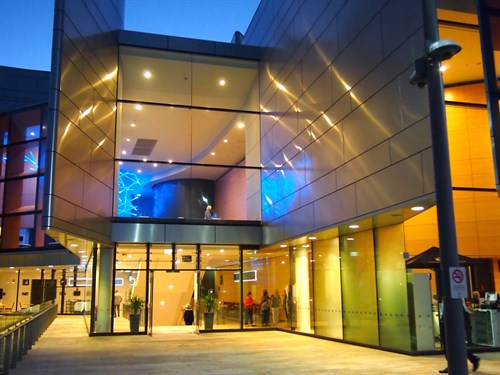 The Concourse, Chatswood, view from the terrace
                                                     Photos: Serge Boyakovsky
Posted on Saturday, 7 March 2015 at 2pm