Sydney Mozart Society
Affiliated with the Mozarteum, Salzburg
Sydney Mozart Society brings you Mozart and much more from the 'Golden Age' of Chamber music.



Thank You Selby & Friends
Thank you Kathryn Selby, Andrew Haveron and Timo-Veikko Valve for a memorable performance last Friday night, 24 May 2019 at The Concourse expressing all the warmth, joy and exuberance of early Beethoven works. The Selby & Friends performance inside The Concourse was just as dazzling as the Chatswood Vivid light installations outside the Concourse!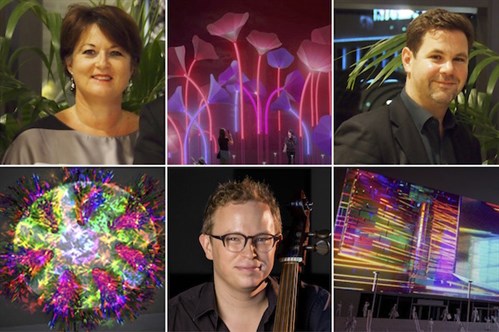 The concert began with Beethoven's variations on the Bei Mannern theme from Mozart's Magic Flute. In a beautifully restrained performance Kathryn Selby and Timo-Veikko Valve  moved effortlessly through quiet  tenderness, playful energy, hesitancy and yearning. 
Andrew Haveron then joined Kathryn to perform Beethoven's violin sonata  Op 24 "Spring"; piano and violin explored a lyrical world filled with graceful melodies and finely crafted moments of introspection and intimacy.
In the final work all three artists came together for a performance  of Carl Reinecke's arrangement of Beethoven's orchestral concerto Op 56, the 'Triple" ; together they conveyed the rich musical textures and powerful expression of the work.
Tony Burke, reviewed the concert for ClassikON. "Needless to say the three soloists excelled in accuracy and interpretation" he wrote. You can visit the ClassikON website to  read his concert commentary.  
                            Photo collage and text: Charmain Boyakovsky
Posted on Tuesday, 28 May 2019 at 11am