Sydney Mozart Society
Affiliated with the Mozarteum, Salzburg
Sydney Mozart Society brings you Mozart and much more from the 'Golden Age' of Chamber music.



Meet Zoe Knighton and the Flinders Quartet
We are looking forward to our next concert on 18 March 2016 when the Flinders Quartet will perform Mozart's string quartet no 14 in G, K 387, Spring , Haydn's  string quartet in E-flat, op 33, no 2, Hob III:38, The Joke and Beethoven's string quartet in C minor, op 18, no 4
Formed in 2000, the Flinders Quartet is a highly respected Melbourne based string quartet.  They perform a full spectrum of repertoire including commissions of works by Australian composers.  The quartet is regularly invited to perform for chamber music presenters such as Musica Viva and is in demand for festivals throughout Australia, often in association with talented guest musicians. They have a steadfast commitment as performers, teachers and mentors to the development of Australian chamber music.
Cellist Zoe Knighton who graduated from Melbourne University is one of the founding members of this quartet.  In addition to her work with them, she is a sought after cellist and has played numerous concertos with Melbourne orchestras. She has also made recordings with pianist Amir Farid, and is a regular panelist for national and international competitions.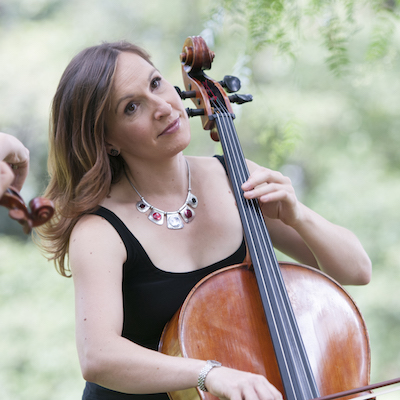 photo: Nicholas Purcell
Zoe spoke with Helen Marcionetti of Sydney Mozart Society last week.
(SMS)  When did you realise that music would become your career?
(Zoe)  I came to that realisation at about the age of 16, when playing with Melbourne Youth Orchestra, how much I valued this form of communication and realised it  as inevitable  music would become my career.
(SMS) Who provided inspiration?
(Zoe) My inspiration has been my instrumental teachers and various cellists such as Truls Mørk and Li Wei Qin.
As a musician and at this moment it is composers such as Haydn, Mozart and Beethoven.  Their music gives us such a connection with the world in which they lived. For me playing their music gives a much more vivid insight than reading a history book. The craft required to play their works requires so much skill, and concentration.  At the time of Haydn, such music was written for amateurs providing so much joy for both performers and audience.  Also in this era, music had much more of a focus as it could be heard only in live performance or if you were playing it yourself.
(SMS) Your thoughts on the importance of live performance.
(Zoe)  Concerts enable us to be able to fully concentrate on the music without the interruptions that occur at other times in our busy lives. To have this opportunity to concentrate and give our full attention to the many layers musical works such as string quartets  possess, we need to hear them in a concert hall.
(SMS) The rewards of playing in a string quartet.
(Zoe)  It is a privilege and a gift.  It is like being a member of a family and it is vital that every member is committed.  Once a common voice and unity is found it becomes addictive.  In addition there is the repertoire of brilliant works in which the composers bare their souls. Music which is so conversational and personal. This really becomes apparent in live performances.
(SMS) Your thoughts on the works we will hear on 18 March
(Zoe) Obviously all three composers used the string quartet to further their compositional craft.  With these three works the Haydn and Beethoven are relatively early, the Mozart 387 is a relatively mature one. Each of these works represents a shift in the composers thoughts about the direction of string quartet development.
Haydn,Mozart and Beethoven were all responsible for a huge percentage of the music which followed them, and in order to understand the music being written today, it is important to understand the music of these composers.
Read more about the quartet's thoughts on the concert works.
Posted on Sunday, 6 March 2016 at 12pm