Sydney Mozart Society
Affiliated with the Mozarteum, Salzburg
Sydney Mozart Society brings you Mozart and much more from the 'Golden Age' of Chamber music.



Spotlight on The Australian Haydn Ensemble
Our next concert on 31 August 2018 will be several musicians drawn from the Australian Haydn Ensemble, the group that Limelight has called "... a gem in the national period instrument crown."
The Australian Haydn Ensemble was formed in late 2011 by a group of musicians with a passion for  performing late-Baroque and Classical music. With their  period instruments, playing techniques and performance styles, the ensemble members aim to create the sound-world  that would have been familiar to Haydn and his contemporaries.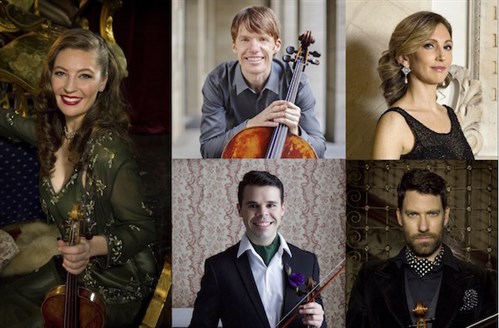 The ensemble  launched its first subscription season in 2012 and has steadily built a reputation for the vibrant energy and beauty of its performances. It is now regarded as one of  Australia's finest orchestras and chamber music groups. 
The ensemble tours nationally and has appeared at overseas venues and festivals. Its busy schedule includes recording, regional performances and educational projects.
In an interview with Stephanie Eslake  of CutCommon earlier this year, ensemble member Matthew Greco explained that "To be performing in this style or, let's say, any style of playing from the 17th and 18th centuries (as there were many!) means that we have to try to understand how musicians made music in that period of time. We do this by researching: reading old scores, essays and treatises about how to compose and perform music; and then experimenting based on what we know by trying things out in rehearsals and concerts. We also attempt this recreation by using instruments made in the old style – using gut strings, a variety of different shaped early model bows, using the harpsichord and small Baroque chamber organ.
"The point is not to recreate how this music sounded for a purely archaeological purpose. But rather, the hope is that by understanding how composers wanted their music to be played and putting it into our practice, we can make music sound more convincing, more beautiful and ultimately move audiences."
The musicians' instruments are an important part of the Australian Haydn Ensemble's unique sound. Artistic Director Skye McIntosh, for example,  plays a period violin made by Josef Panermo, 1800, London.   Melissa Farrow plays a period flute, R. Tutz after H. Grense, 2001 (copy of c.1830 Dresden model) made in Innsbruck.
For details about the Australian Hayden Ensemble concert and to book tickets, visit the concert page.
                                                                                                     Charmain Boyakovsky  
Posted on Thursday, 19 July 2018 at 8pm